I never liked history in school, but teaching history from a Christian worldview and including all of the Biblical history as well has changed my perception; it's all HIS story! We were pleased to receive for review the Veritas Press Self-Paced History: Middle Ages, Renaissance and Reformation as well as the Middle Ages, Ren & Ref Flashcards from Veritas Press. Veritas Press is well known for being an excellent provider for classical-based homeschool materials, and the self-paced program we've been using has been fantastic!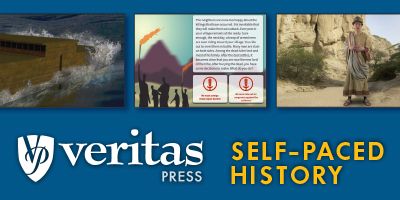 Self-Paced History
The best thing about the whole program? It's a self-paced history course, and the best part is, it's self-paced! I know that sound redundant, but in this season of life – when I have just obtained a part-time job for the first time in over 10 years – it's kind of a big deal for us to be using a history program that isn't teacher intensive and is also interesting and fun for the kids. And the kids ARE enjoying it!
Brandon is the official student, and it's Brandon who is doing the in-video activities. He signs in to the Veritas Press website and his lessons are listed on the left. The lessons he's completed already have a "replay" or "refresh" looking round arrow. The lesson he's on has a circle with an arrow in it, like a "play" button. Lessons he hasn't reached yet have an empty circle and are locked; this way, students can't jump ahead before covering all of the material. The program keeps track of where your student left off, even if they don't complete an entire lesson.
Unlike similar, CD-ROM based programs we've used, the self-paced programs from Veritas Press don't assign lessons on specific days and then have you play "catch up" if you miss a few. It's completely self-paced, allowing your student to study several lessons at once or to go several days without opening and just continue at whatever pace they need. I love this because it allows us to supplement or to jump in to literature or projects if we need to, or take sick days or vacation without worrying about getting behind schedule.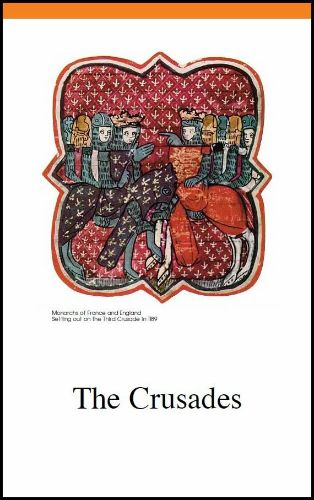 Self-Paced Middle Ages, Renaissance, and Reformation
The Middle Ages course, like the others, is an interactive video course. There are two "monks" (in character) who are telling the stories, teaching the history. These guys are great, and keep the kids entertained and engaged. They're funny, and fun to watch, and silly, and they really help the kids remember what's being taught. Each lesson isn't long, maybe about 20 minutes on average (not often much longer), and includes an interactive activity of some sort to help concrete the information. My boys' favorite activities included a soccer game they played for the lesson on St. Augustine. There is also a memory song, which the boys have claimed to strongly dislike, but are now telling me that it's one of their favorite parts of the program. (Go figure!!)
We also had the opportunity to use the Flashcards that go with this program. They aren't an essential part of the program since they are shown in the lessons themselves, but unless your child has a great memory I would highly recommend splurging on these extras. They also serve as great review items, to be used outside of the program, especially for students who need the repetition before a quiz. The cards have a front illustration and title, and the back has an article with pertinent information that is included on the quizzes and tests inside the program.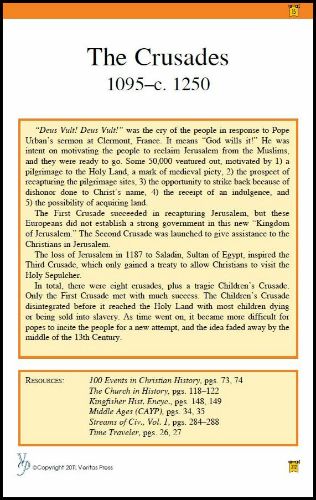 It has been no trouble at all to get the kids to do their history, and it's been a huge help to me to not have to sit with them and go through it all with them every time. I can use the cards to go over things with them and feel like I'm helping them learn the material and participating with them as we review, and not feel guilty about leaving out the usual activities we've done in the past like timelines and notebooks. The program really is full, all by itself, and fun, and I can feel great that even while I can't be right with them all the time that my kids are still getting an excellent Christian-based history education.
Thank you, Veritas Press, for making this available! I know that all homeschoolers do differently and we are all on our own path. I appreciate the resource during this time when I can't be here at home as often as I am used to being, and I know that many homeschool parents and students who struggle with teaching and/or learning history will also have great use for these self-paced programs. They are great for anyone, and I'm thankful to have the opportunity to use them in this season.
The Self-Paced programs run $199 and you have access to the videos and materials for an entire year. The flashcards cost $19.95 and as I said, they are totally worth the extra investment. I enjoyed having these tools because we don't have the availability to do a timeline right now, and between these cards and the silly song taught in the program itself, we don't have to! The Self-Paced programs are geared to grades 2 through 6, though I think they would be appropriate through  middle school as well, especially if you are supplementing with literature or outside projects and curricula.
You can connect with Veritas Press on their social media:
Facebook – Twitter – Pinterest – Google+
And don't forget to check out the other Crew reviews! Other reviewers received different time periods of the Self-Paced programs, and check out the Omnibus reviews for high school students!