My 12 year old dyslexic son has had some trouble memorizing math facts, so I'm always on the lookout for memory tricks that might help him. It's my pleasure to share our Times Alive experience with you, as we've had free access through Times Tables the Fun Way for the purpose of review. Times Alive uses online lessons with animated songs and stories to learn times tables the fun way!
Learn Multiplication
This is a great tool for your student to learn their multiplication tables, at any age. My 6 year old twins have picked up a few facts just by being in the room when their older brother does it! If you're looking to help your child learn multiplication or just solidify their fact memorization, keep reading!
Times Alive uses a myriad of learning style applications to get the message to your student. The first portion of the lesson is always a video. The video tells a story and sings a song about the math facts. The story itself is a little more complicated than some others I've seen, but the inclusion of the song and usually a very catchy chorus with the pertinent fact information makes this program top of the list for me. Also, this program teaches all of the facts and not just the "hard ones" like other programs.
Method and Learning Styles
One thing I like about Times Alive is that the songs and stories use a play on words usually to help the kids remember. For instance, in the picture above, the fact is 6×6=36. From the story, the 6's are "thirsty" which sounds a lot like "thirty" and helps with memory. Another example is the 7×4=28 video I watched with my son. In that story, 7 is a fireman and 4 is the pole. He tries to get to a fire in a farmer's barn, but he's "too late." Sounds a lot like two-eight which is twenty-eight! That might sound complicated to explain the long way like that, but if your child is an auditory learner it really helps! Visual learners have the advantage of watching the video and song, and kinesthetic learners will benefit from the practice and short quizzes in each lesson.
It's recommended to do this program two or three days per week. That's how often we've been doing it. Honestly, with a struggling 6th grader, I feel like he needs to re-watch the videos he's done already on his days off. Each lesson has several sections, with the video itself, emphasis on the specific problem(s) addressed in it, a cumulative quiz, a story quiz with the picture, etc. I feel it would be beneficial to have my student go back and on the days he's using his core program only, at least go through the videos he's already watched. That bit of review might make the difference for us.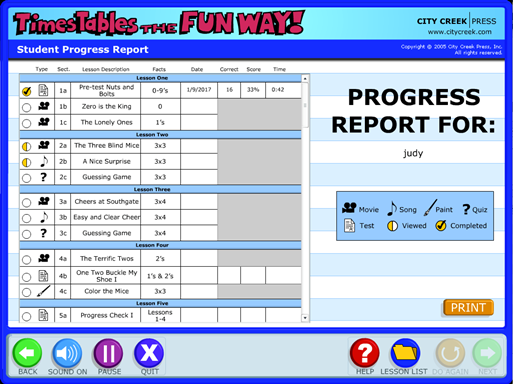 Teacher Dashboard
The only disappointment I've experienced with this program is the teacher dashboard, or what's actually termed the reports section. As you can see in the screenshot here, there's a limited amount of information available. I love that there are quizzes, but on the site it says that you can only work on the fact areas that your student misses on the "Nuts and Bolts" quiz. That would be great if it were true, but the only report I can find is this one that tells me the overall score and the total time it took my student to complete it.
I'd love to see a full report that shows me which problems he got wrong, even how long it took him to do each individual question or at least divide the test up into sections so that I can be advised as to which fact families he struggles with. I can't very well go back through and do only the facts he needs… unless I've sat and watched him do the test myself and kept up with that information. Honestly, I can do that on paper with pencil, so if I'm using a program like this then I don't want to take the time to grade it myself like that.

I wish there was a bit more drill built in as well. This might work well as-is for a student who can grasp it the first time around, but in that case, ANY program would work. For us, we need the constant review and more practice. This is a fantastic program but I feel that it could use some expanding to accommodate everything we need as a family with a struggling older student.
But, my son loves the stories and songs, and he IS making progress! He's decreased the time he can do timed drills, and I feel that with some modification of this program and additional outside practice, as well as continued use and keeping it in front of him, he'll continue to improve. The program is written to be completed in less than a month; we still have a couple of lessons left as I'm having him stop and do drills to a certain standard before he moves to the next section. Our slower pace is providing some progress in areas where we haven't seen any in about a year.
I'm thankful to have had the opportunity to review Times Alive with my student! You can connect with Times Tables the Fun Way on Facebook and YouTube. Don't forget to check out the rest of the Crew Reviews!