We have a range of learners in our home, and I'm discovering that even my twins learn differently and at different speeds. Talking Fingers Inc. has several phonics learning online programs, some of which we've reviewed earlier this year so I'm pleased to also be able to bring you this review of their Talking Shapes: A Supplemental Curriculum for Early Literacy program. We received a subscription good for multiple users in exchange for my honest opinion about our experience.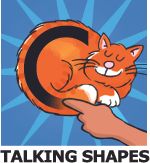 My twins will be 6 next month, and have been doing kindergarten over the past year, but they are very different styled learners. I'm seeing that they learn differently, at different paces, and with different interest levels. Caleb is a little quicker on the draw; he was interested in "doing school" at an earlier age, and enjoys workbook pages as long as he doesn't have to do too much coloring. Lynndi has been slower to be interested and slower to pick up concepts; she doesn't seem to have strong difficulty learning, but rather just needs more review and more time for it to sink in and firmly grasp it. She is one who isn't going to learn it until she's interested in learning it!
I think that Talking Shapes has been of the most benefit to her. It provides yet another form of review, and allows some of that kinesthetic interaction that is more difficult to utilize in language arts learning. It also provides the memory hooks she needs because the main point of the program is that the letters are fit into a picture that starts with their sound. If you'll look at the graphic above, where the C is fit onto a CAT, you'll see what I mean! The program does use capital letters, and I think that using lowercase letters instead (or at least, in addition to) would be more beneficial, but Lynndi seems to be using these memory hooks as proven in her other work.

The twins have both really enjoyed using the program. There are 7 stories, grouped into books. Each of these stories focuses on a specific vowel sound and a handful of consonant phonemes. The children are recognizing beginning sounds, differentiating vowel sounds in the middle of words, spelling words, reading words, and more. It's about phonemic awareness and giving the kids one more tool in their language arts toolbox. Caleb has enjoyed it just for fun's sake. Lynndi works a little harder and is gleaning quite a bit from the program, especially in the sections where the poem is read to her and she then has to recognize the missing word when it floats across the top of the page.
There's a handwriting practice portion as well, but I was a bit underwhelmed by it. The look of this site seems to be that they are trying to gear this program as an app, and in that case I think this will work brilliantly. As a desktop program, though, it was too easy for the twins to just hold down the mouse button and wiggle it until the whole letter was filled for it to be of much handwriting good. In general, handwriting practice with a mouse isn't the best anyway in my opinion, and this is a common issue with other things I've seen. It's not the main part of the program, though, and I tried to stay close enough that I could catch the kids and get them to actually practice the letter rather than just digi-color it like that.
Save
(Haha! I had to share that with you! She's enjoying this so much, and it's really helping her confidence. She'd love to see a comment from you all to help encourage her!)
Other than really preferring that a letter recognition program use lowercase letters, there was only one other issue we had with this program. For the first few weeks, it worked just fine. It took a few minutes to load, but the wait wasn't terrible and the kids liked the program enough that they were willing to wait. For some reason, though,a fter the first few weeks, it got to where the program would just take an excrutiatingly long period of time to load – or it just never would load. We cleared cookies/cache and all kinds of stuff; sometimes that improved the wait to back under 10 minutes, and sometimes it didn't. We tried multiple browsers; sometimes that worked and sometimes it didn't.
My kids really like this program and ask to do it, but since we only have one computer to use right now with 5 students (and an online mommy!) needing to share it, we just can't wait that long for a program to load. We would be much further along in the program if it would load faster! One thing I like about it is that it DOES remember exactly where your student leaves off; they don't have to finish a book or click save or anything. Each student needs a separate email as their username, and Talking Shapes takes care of the rest. That's important when you're sharing a computer like we are, in case an older sibling needs it right this second. We'll keep checking on this one to see improvements and to let the twins get in their phoneme practice!
Don't forget to check out the other Crew reviews!