If you have ever wished that the makers of Math-U-See would come out with a spelling program, then you will be thrilled to hear that it is true! MUS has a spelling program! I received for the purpose of review two full levels of the new spelling program from MUS, titled Spelling You See. (And, personally, I'm happy that they decided to correctly spell the word "you" rather than the phonogram used in their math title. Just saying!!) We've been using both Spelling You See: Americana (Level D) and Spelling You See: Jack and Jill (Level B) with my middle grade students.

A New Spelling Program
The new spelling program from Math-U-See uses new approaches in teaching spelling concepts. Like their math program, Spelling You See also does not go by grade level and is largely geared towards the visual learner. If you have students who have been resistant to writing, to tests, to lists of words, or who seem to have had trouble learning with the traditional methods, then Spelling You See may be just what you are looking for!
Now, I must be honest. I'm whole-heartedly in favor of and concretely prefer a phonics approach to spelling. This program is not that. It is not something, after being able to look at the books, that I'd have picked up on my own. From what I understand on the subject, and what I see in these books, I feel that this curriculum is more closely lined up with the current school of thought in some areas, and I'm not completely comfortable with that. But, it's working!! So let me back up a bit here.
How it Works
Our main review level was Spelling You See: Americana (Level D) for my second son. Drew is almost 11 years old, technically the right age for finishing up the 5th grade. But, most of his language arts curricula are closer to a 3rd grade level. (Not because he can't do the work, but because it's like pulling teeth to get him to do it often. But that's another subject.)
At this level, students learn to "chunk" passages. The theme of the passages in this level is American stories: Paul Revere, Harriet Tubman, etc. We read the story out loud and follow the directions at the top of the page. The student has a box for reference that shows them all of the vowel chunks, and they highlight (circle, or mark however) those chunks in the passage. My Teacher's Guide has some tidbits to share with my student about the vowel chunks; these are just pieces of information to help the student understand what it is he's doing.
The student then copies part of the passage in copywork style. The Teacher's Guide instructs me that he should not take longer than 10 minutes to do this work. If he messes up while copying, he should erase and do it properly. Then we go back through his copied passage and find the vowel chunks again. The second day is similar, only he's copying the second part of the passage.
The third day is exactly the same as the first day. This was a problem in my home, and resulted in several days worth of fits and refusal to do the work. The Teacher's Guide says that even if you don't finish a week's lesson, feel free to go to the next lesson the following week anyway, because concepts would be repeated. Okay, great! That gets me out of that… but… to me, personally, I can see how that approach would result in ONLY the first two days of every lesson being done, fits thrown about not doing the third page on all the other days and then – happily enough for my resistant student – we move on to the next lesson on Monday anyway.
Well… that's not going to fly with me. The better solution for us has been to just skip that one day's page. It's a repeat – an exact repeat, mind you – of what he did on day 1. So, I don't really have a huge issue with not making him do it again. I could give him the day off. Or what I actually did was just go on to day 4, pretending that day 3 doesn't even exist. That works for us.
I'm thankful to have the caveat in the TG to get out of doing every single page, but I also think it's very important to make sure the child is doing what he is supposed to do and is making progress. I'm not going to just let him skip pages because he doesn't want to do them. Maybe that wasn't the intention of what it says, but it's how it would work in my home. (And that, my friends, is a big issue I have with the newest school standards these days. They might work in theory, but in practical usage… not so much!)
Day 4 introduces dictation. I like this approach because it causes him to think, to employ rules he knows from grammar class about capitalization and punctuation. I also realize that he's partially memorizing the passage in anticipation of needing to copy it down. But, since he is a visual learner, and that's how this program is geared, it's working for him. On Day 4, students are allowed to ask for help in spelling, and we do corrections where they are needed with punctuation and capitalization, etc.
Day 5 is similar, only more strict as he is supposed to do the dictation without help. Both days, the TG limits us to 10 minutes worth of this activity. That is great for my writing-resistant student, because he knows that he is only going to have to work for a certain amount of time. I do stop the time if he gets up to get a drink or go to the restroom, or is just staring into space, or for some other reason is just flat not working. Otherwise, as the TG instructs, I do not stop the time if he is erasing or asking for help. 10 minutes of good work, and he is done. A fun little secret? He's getting to the last or next-to-last sentence in that time, and he actually insists on finishing the paragraph anyway!
 Younger Students
We also have been working with Spelling You See: Jack and Jill (Level B). I had hoped that this would help my middle son with his spelling. Brandon is 9 years old and I have worked diligently with him, but keep holding him back in spelling level because he just doesn't seem to really get it. He works on spelling daily without resistance. He gets all his pages done in a timely manner; he's still working on his handwriting, but all of his answers are correct. And then the test, where he massively fails, every. single. week. He is not learning the spelling words. He's just not. Even after having worked with them all week long.
Now, this was not ever Drew's problem. Drew was able to do the work, and if he'd seen and worked with the list a time or two, he did fine on the spelling tests. He's a visual learner, and just seeing the words and making him go through the process of writing them once or twice worked for him. He was just super resistant to doing it, and the copywork in this program is what I think is key for him. (And the chunking. I really like that part!! These two components together make up the gist of the program.)
Brandon, on the other hand… Brandon just doesn't understand. He's not retaining the information. Rules aren't helping. Copying isn't helping. Sounding things out… not helping. This program does have him stop and sound out each letter as he writes it, and then tell me how he spelled it. But let me back up and explain how the lower level differs from what I've already described.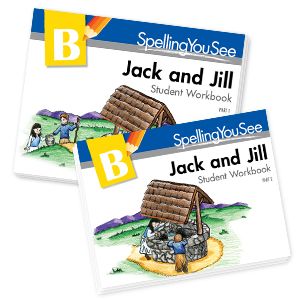 Spelling You See: Jack and Jill (Level B)
uses nursery rhymes. This is great because they are usually familiar to this age group (geared for a little younger than my son), and they are easy to remember, and they rhyme. Rhyming helps with remembering how to spell, and it also opens up discussion for why some words with the same sounds are spelled differently. It's been great for discussion.
When the student first starts the level, they are not doing the chunking I described previously. Instead, they are searching out rhyming words, or all the words that start with J, or some other such language pattern found in the rhyme. Then they copy two short lines from the passage. The second page has them practicing letter formation, and then some word dictation. This dictation is different in that it is individual words and not full passages. The words follow simple spelling rules, like words with a short /a/ sound, and things of that nature. Pretty much the whole week is like this, with different words each day (some repeats).
That's the first workbook, the first half of the program. In the second half of the program, this student transitions into doing work more like the older students, with a few differences. They do the chunking and copywork, with longer poems than in the first half, just like the older students do. The first poem in the second half of the book is "I'm a Little Teapot," for example. It's twice as long as the ones in the first half, and the student copies it a half poem at a time (just like the older students' passages).
Again, Day 3 looks exactly like Day 1 on many occasions, but I did notice in this book that sometimes the poem is longer, so students will copy it in an overlapping manner, copying the first couple of lines on the first day and then starting with that last sentence again on the next day. Then the third day they start with the last sentence they copied the day before, and go on to the end of the passage. So, at least the third day is not always exactly, precisely, 100% the exact same as Day 1.
Day 4 is what is called "No Rule Day," in which the child first does the chunking and then is allowed to write or draw whatever it is they would like. They can illustrate their favorite part of the poem, or just write the whole thing out, or just write the rhyming words, or rewrite the poem entirely, or… whatever you and they can creatively decide to put down. No rules. Have fun with the poem. Yay. If you have a particularly creative student, this is a great day to let them get their "feelers in" and do what they intuit with the poem. I suspect some students would do better to just skip this day and pretend it doesn't exist, just like we did with my older student on the repeat. Day 5 is full dictation of the whole poem, as with the older students.
My Opinion
So, there you have it! We've enjoyed using the program, and I'm thrilled for all of us who've anticipated a spelling program from the people at Math-U-See for a long time now. We finally have one! I'll say that I'm a little disappointed in it, as I'd have anticipated to be able to include more kinesthetic aspects considering the makers. Manipulatives have always been a foundational and exciting portion of the MUS program, and I'd hoped their spelling program would have some of the same. It does not.
Would I recommend it? In a few instances, I probably would. If you have a struggling student, it's definitely worth a try. If you have a highly visual student who just needs more stimulation (and motivation) in a spelling program, Spelling You See would definitely be up his alley. If you have a student who seems to learn better with word patterns than with phonics, and (this is my own opinion here) already knows his basic phonics and can read and sound out words easily, but has trouble spelling and remembering patterns, then this program is perfect for exactly that.
In most instances, I would – as a phonics proponent – recommend using those programs first. I think this program is geared towards a certain student, of which I happen to have one. I will say, though, that even with my phonics learners I will probably pull components from this program to use as we continue to remediate and look for what the perfect solution will be for those specific needs. I'm thrilled that this program has filled a need for one of my students, and I'm so thankful that it's available! It will save me more time and frustration than I can convey. In that sense, it has and will continue to be a life-saving (and homeschool-saving!!) program in our home.
The Details
I did mention that my middle student placed in Level B when most of his course work is a 3rd grade level. My older son's course work has also been a 3rd grade level, but he placed at Level D. In order to determine level, Spelling You See doesn't go by grade level – or even word difficulty level – to determine placement. Instead, it goes more by motor skills and cognitive ability level. I absolutely see this as an advantage to this program! To determine placement, see the Getting Started page on the SYS website. SYS doesn't recommend that any student, no matter grade level, start any higher than Level E.
The Levels:
Normally in a Crew Review post, we would offer age recommendations for each level. This program is a little different, though, and doesn't have age recommendations that I can find. Instead, please use the Placement Guide to see which level best fits your student's cognitive ability. There is also a useful FAQ section on the website.
The Cost:
For most levels, the teacher guide costs $14, with the exception of Level B which is $16. The student packets are slightly different for each level, most of them coming with 2 workbooks and a resource or two including possibly colored pencils and/or a handwriting guide. The student packets cost $30 with the exception of Level A which costs $20 (and has only one workbook, but also stickers).
So, the levels in completion cost about $44, give or take, and depending slightly on the level. My calcuations come to Level A being only $34, Level B comes to $46, and the rest are all $44.
So, now you might ask me, do you need the teacher manual? I would say most probably, yes. In Level B you for sure need it, because it has word lists for dictation. In the second half and in the older books, the teacher book has the rules and tricks and phonics information for the chunking you are doing, and I expect that most people will need that. I do think there are levels, teachers, and reasons that would excuse  you from really needing the teacher book… except that this is probably a new approach for most homeschooling families, and the philosophy information is explained well here. I do think that after you do one teacher guide (and get past level B), that you could probably do without them from there on. Just personal opinion, there.
After all the spelling programs we've used in the past, I must say that SYS is a breath of fresh air. It's definitely the easiest program I've ever used, even if it's more teacher intensive than some of them have been. It helps with the happy atmosphere of our day, and we're loving it!