I've decided to go ahead and post my Random 5 family updates, but I'm going to do it separately from the Christian Fellowship linkup each week. That way, the linkup post isn't too long, and I know that anyone who clicks through to this post wants to be here and wants to see what's going on with our family.
In addition to my family updates, I'm also going to include 5 Random Roundup posts from around the blogosphere that I have read and loved this week. Sound like fun? I hope you think so! I'm also going to be linking up again at The Pebble Pond. I enjoy the Random 5 format and want to network with those girls!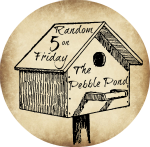 So! That out of the way! Here's this week's Random 5 on Friday updates:
Hubby was able to rent a jackhammer this weekend and is finally going to get the walls down! He got put in a hurry after complaints from the city, and then we have an opportunity for free, clean fill dirt because someone is digging a pool. Pray for him this weekend!

I still have an Usborne Books party open. I have a friend with a Tupperware party open. I had a Premiere Jewelry party in my home tonight. (Email me if you'd like to possibly order; we're turning it in on Monday!) And next month I'm having a Thirty-One party! Look for that link soon. Wanna party with me? Shoot me an email! I'd be happy to trade out parties with you, or set you up with Tupperware!

We are having a "first fruits" offering and covenant declaration at our church on Wednesday, July 1. This is a result from several prophetic words we've received as a fellowship, all aligning together, and the most recent being an instruction for starting in July. We will do our FIRST live worship that night, with me at keyboard. Please pray for me and for our worship team!

I think I've finally got a social media promotion, blogging schedule, homeschooling schedule, and chore setup that finally works for us. I can't wait to bring you a review on Homeschool Planet and tell how it's helped me set this all up!

I'm about to go through old content and make sure it all lines up with my current goals and expectations for my blog. If I can't answer "yes" to one of these questions, then something needs to change in that post. Here are the questions I'll be asking for each post:

Does this blog post tell my readers what I've learned about being the woman God created me to be?

Does this blog post demonstrate something I'm doing in my life now to bring me closer to being that woman?

Does this post share with my readers something I'm dealing with now or something the Lord is showing me needs to change in me, making me transparent in being on this journey still?
Do you think that asking myself those questions will help my posts be relevant to what you hope and expect to see here?
And now for 5 Random blog posts I've read and loved this week!
Cheap Easy Lemon Mint Tea – at Happy 2Ba Homemaker
8 Tips for Staycation on a Budget – at HopeNGriffin
What to Do in the Garden in June – at Little Sprouts Learning
Give Thanks in All Circumstances – at Tapestry Chronicles
Finding Balance When There Isn't Any – at Hallway Initiative