If you want to teach your kids that our wonderful world and universe were a purposeful design by an intelligent creator, but want to pique their interest and let them explore on their own, have I got a resource for you! I was privileged to receive for review a book called Purposeful Design: Understanding the Creation by Jay Schabacker of Purposeful Design. It's a beautiful hardcover book in full 8×10 size (my approximation), with beautiful illustrations and a wealth of information! Especially you unschoolers will want to hear about this one.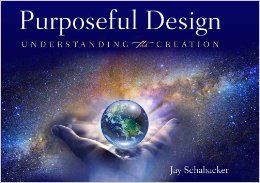 Purposeful Design
We have studied creation science quite a bit in our home in the past. My kids know about the 7 days of creation, and even incorporate it into their history studies – Noah's Ark, the dinosaurs, and more. We believe in a young earth, literal 7 days of creation, and a God who masterminded every bit of it. This book is a wonderful resource and one my kids are drawn to even on their own!
The illustrations and pictures are beautiful, with full page color photos at the beginning of each chapter, complete with the creation verse from Genesis. There is a paragraph describing what the Bible says happened on that day, and then you turn the page to get into some of the scientific facts that go alongside that. For instance, on the first day of creation when God created light, Jay speaks of some light science and a lot about the specifics of the universe and the earth as far as miles and the incomprehensibility of it all. On the second day, he speaks about water and about atmosphere; the third day includes discussion about the tilt of the axis and the seasons of the year, as well as the importance of plants in our lives and how we can use them for food and many more things in our every day lives. Each day seems to have more and more information, ending of course with some study in animals and in anatomy.
The entire book has scripture woven through it; at the beginnings of the chapters, yes, but also as you go through the chapter. Also, at the end, there are pages of scripture that I just adored and enjoyed reading to my kids to allow them to think a little more, and deeper, on the things of God regarding His greatness, His goodness, and His omniscience and omnipresence. Love it!
Really, the biggest impression from this book is the drawings, photos, and illustrations. It's gorgeous,  y'all! This is a great coffee table book, and we had the most fun using it as an added resource. We are studying creation with the preschoolers, so one day a week we would read about one day of creation. (We found that the included information for the days of creation increased with each, so later in our study we've had to take more than one day in the week to pick the book up and read.) The twins pay attention longer because of the photos; the information is often on more of a middle school level at least, but since we are all sitting and reading together everyone loves hearing and seeing. Think of those kids' encyclopedias that drive us moms nuts but kids will sit and explore for hours – that, only less busy, more beautiful, a more leisurely pace of the same sort of study idea.
We read together and then I leave the book out all week. I find the kids gravitate to it for a few minutes at a time, maybe 10 minutes or so for my middle students (10 and 11 years old). They look, they read a paragraph or two here or there, whatever is related to the cool pictures they see, and then they put it down and move on with their day. The best learning happens when they are interested, and this book is gaining and keeping their interest, so that they choose to pick it up on their own!
It's very easy to take the information and jump from it and do a study. For instance, on day 3, we immediately saw interest in the seasons and honestly have been a little stuck in studying the seasons now – because it's what's happening, what's cool, what's interesting, and now they can relate it to God's mighty creation and what He did on the third day. It's awesome, yall!!
The website also has worksheets, a full workbook, totally for free! See their Young Explorer's Club page on the website. It's geared towards the elementary aged students. It works as a resource for when you read the story, they can follow along and find the answers as you go. Or, since I'd forgotten about this resource at first, I think a great way to use it is as review. Leave the book out during the week like I discussed, but hand them the worksheets after you are finished reading for the day. Assign the worksheets to be turned in by your next reading. That way, they will go back to the book during the week even if they aren't being drawn to it on their own. I promise, in picking this book up they will get distracted and explore some! It's a fantastic visual for your hard to reach kiddos!
As much as we've studied the creation and the science to go with it, this is being a fun tool and we are picking up new information. I love creation-based science anything at all, because it's looking at it in a whole different way than I did in school, and this is one of the best and most interesting collections of scripture and scientific facts I've found. Yes, even my high school student is picking it up and reading it and gleaning from it. The preschoolers love the pictures and are enjoying it in conjunction with our studies together, and the boys are just doing it "extra" – and not fighting me over it. Really, it's useful with any age group. This one is a gem!
You can pick this beautiful resource up at Jay's website for just $18.95 – and again, that's the beautiful hardcover, full sized gorgeous book! If you were interested in this for a co-op setting, or private school, even Sunday School, do be aware that there are discounts for multiple purchases. Grab a group of homeschooling friends and go in together on an order! It's way worth it! Connect with Jay on his blog, on facebook, and on twitter. Don't forget to read the other Crew reviews!