Have you ever wished you could go back in time in order to accurately teach your kids history? Are you looking for a projects-based history program or supplement to keep your kids engaged? Home School in the Woods has allowed us to review their Project Passport World History Study: The Middle Ages package, and I can now highly recommend the program! It's so much fun and my kids are cooperating, learning, and retaining information. We're thrilled!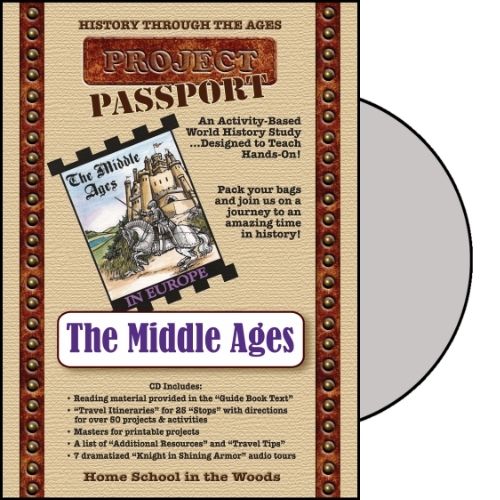 Projects Based History
We have used and loved several history programs, most of which include activities, but we have never used anything on this level of fun, engagement, activity, and projects. We are using it as a supplement to our own history core program, and in fact using it as a review. Project Passport World History Study: The Middle Ages would make a great summer review, as it's designed as an 8-12 week program when used to its fullest. You could also use it right alongside your core program, doing one "stop" per week. With 25 stops, you can easily coordinate it with your core program and just do the activities that appeal to you.
It can also be used as the core itself; if you're going to do this, I'd expect to do more of the activities and supplement with reading suggestions for the time period. For elementary students, it can work on its own, or supplement with your choice of core learning for a middle school student. My kids are loving it and we'll be continuing with the series where it fits!
The first "stop" is really a set-up time. It's a bit overwhelming at first and we did well when I pointed out to the kids that it was a set-up day and not present it as a lesson day. In fact, this is definitely one where the teacher can do most of the prep work ahead of time, or set up only one project a day for a week. If your kids aren't into cutting, pasting, and coloring, you'll want to look carefully at the activities. There are a LOT of those sorts of activities, but there are a lot of activities that are NOT that sort. Feel free to pick and choose with this program!
The first non-paper project we encountered was at Stop #6. We could've gotten away with not doing ANY of the paper projects before that, but I do highly recommend at least doing the timeline. The figures are provided, and I had my kids color the figures while I read the lesson text for the day.
The set-up is a little overwhelming at first. It's recommended to print it all out and have it ready, but that would use a LOT of ink and I wasn't sure what all projects we would do. Besides, honestly, I prefer to use the digital portions as digital when I can. For us, that means reading the lesson text directly from the computer instead of printing it out. I did find that printing out the projects instructions (it's called the "itinerary" for each stop) was helpful because I could take it to the projects table with us.
The way to use the program is this:
After downloading or opening the disk, click the Start icon. This is an Adobe program that will launch; don't try to scroll through it all!

DO read the recommended beginning reading first. The introduction and Travel Tips were crucial for me in understanding how to operate the program.

Decide what you want to print to start, what you'd like to use digitally, and what you can wait to print each day/week as you prepare for the lesson. For me, I read the text from the computer, print the itinerary before we get started for the day, and print the components for the projects as they're needed.

Read the lesson text for the day. I have my kids also color the timeline figures while I do this. Which figures to color is in the day's itinerary, and the page that has the figures on it has a lot so they all got printed for the first lesson. Having the kids color while I read keeps them from getting bored and helps them connect what they're hearing with an actual time event or person.

I'll tell the kids what projects we're doing for the day, and begin to print the components for the project. If it's not a printable project, I have those materials gathered at the beginning of the week and we'll get them out. I walk through the steps together with the kids; this isn't a program to let the kids do independently.

I'll let them work on it for as long as they're enjoying it and have a good attitude. If they get "done" with attitude or endurance, then fine. We'll put it away and pick it up the next day, and continue doing so every day until those projects are finished. Then we'll take a look at the next stop and begin again in a day or two.
Even my resistant child is enjoying this, though he opts out pretty quickly on the paper projects. He chooses not to color most of the time, and often I end up helping him cut things out. He doesn't mind putting them together; most of the paper projects have several pieces and are a bit more than just cut-and-paste. He's not a fan of doing the newspaper, but I'm having him do it anyway. I usually hand him the lesson text and let him copy two or three sentences that sum up the day's lesson; that way he's not having to be creative with what he's doing. My other son (who is dyslexic) usually just copies one sentence and sometimes draws a picture.
We haven't gotten far enough into the program to do some of the super exciting projects yet, but the boys are antsy to do so and I know they'll stick with this just to get to those programs! Home School in the Woods is a company I'd heard of before, but never had the privilege of using their materials. Now that we have, we'll be looking to this company in the future any time we need to get out of our normal history rut! Love, love it, and I hope you check it out too!
You can connect with Home School in the Woods on Facebook, Twitter, Pinterest, and Google. Don't forget to check out the other Crew reviews!