We have reviewed for The Pencil Grip, Inc. company before, so we were happy to have the chance to review more products from them! We received both The Ultra Safe Safety Scissors and The 3 Step Pencil Grip Training Kit to use in our home. These have been fun and interesting for all of us!

The Pencil Grip
We have several children in our homeschool. My youngest two, twins who are a new seven years old, are past the preschool stage. I have two older students as well; my middle son is 13 and diagnosed as dyslexic, and my next oldest son is 14 and I've come to believe that he may be dealing with dysgraphia. This child has a major aversion to writing, even to filling in the blanks, but he can draw all day long. He still occasionally reverses letters; he can see that he did so and immediately corrects it, but he still does it and he also has awful handwriting. My middle son's issues aren't quite this extreme, but he does have poor handwriting. Because of those issues, I've also wanted to be extra certain that my younger kids were receiving proper instruction and all the help they need in the handwriting department.
Enter The 3 Step Pencil Grip Training Kit! These are soft, rubbery-type grips that fit on any standard sized pencil or pen. (In fact, they came already installed on some push-button pens. Thanks, Pencil Grip!) They are designed to be used in order to meet the student (of any age) right where they are with their grip. The beginner starts out with the winged grip, so that there's no room for grip error. The intermediate writer will use the medium-winged grip; this allows for a little bit of individualization while still maintaining correct grip, and it also allows for slightly larger fingers. The advanced grip, with no wings, can be used by anyone – either to encourage the habit of correct grip, or just to add comfort to hands that do a lot of writing.
My twins enjoyed using the beginner grip, but they are honestly past needing it. Neither of them had any trouble with the grip, and they both preferred the middle grip. My middle son also had no trouble with the grips; he preferred the advanced grip and has done fine with it. I also use this grip; I have fairly small hands and long, slim fingers, and since one of my side jobs at home is addressing envelopes it has helped me build endurance with comfort.
My older student, though, hated these. I suspect the reason is simply because he has not been using a correct grip! He is still working with these, but I'm requiring him to wear them while doing his only written assignment each day – his half page of handwriting. He says it's hard for him to do because it "makes" him hold his hand "funny." Definitely needing some grip correction with him, and I'm hoping that once he's rehabilitated his grip that his handwriting will improve and maybe also his willingness to put pen to paper. I'm excited about these grips, and will likely order more!
Ultra Safety Scissors
Do you have any kids who cut their own hair? Or occasionally cut holes in clothing or other off-limits materials? I have a little girl, and while I always prayed for and am super thankful for my girly-girl, she likes scissors. Too much. The Ultra Safe Safety Scissors that we received solve all of that. The plastic casing really does make it where the only thing that can fit between the blades is paper. One of the blades is even shorter, so when I tried to stick my finger in the end a little bit I could – but the second blade didn't reach far enough to even come near to touching my finger.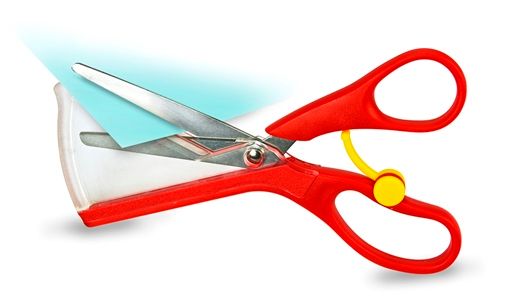 I have probably told you all that I've inherited a ton of school supplies from my grandma. I have about 15 pairs of the old-style safety scissors, and they are SO dull that they barely cut paper. I have some blunt-end scissors as well; how do you think my baby girl has managed to cut her own hair? (Yep.) And then I have some scissors that are labelled kid scissors, but they are just as sharp and pointy as any other scissors; they simply have smaller holes for gripping.
These scissors are wonderful. Tey are sharp enough to make perfect cuts even on construction paper. She might could manage to cut her hair with them, but it would take a tremendous amount of effort on her part. I wish I'd had these for them when they are younger and I will be singing their praises to moms of young kids from now on! You need these! Get some!!
You can keep up with The Pencil Grip on Facebook, Twitter, and Pinterest. Don't forget to check out the rest of the Crew reviews!