In the past, my family has always studied history in chronological order and used a literature supplement to go right alongside it. My high school student has aged out of the program we have been using and really needs something more demanding, so I had a hard time keeping my seat when we were selected to review the new history and literature program by Roman Roads Media. The entire 4 year set will eventually be available, but we were sent the entire first year – Old Western Culture: The Greeks – to review in our homeschool.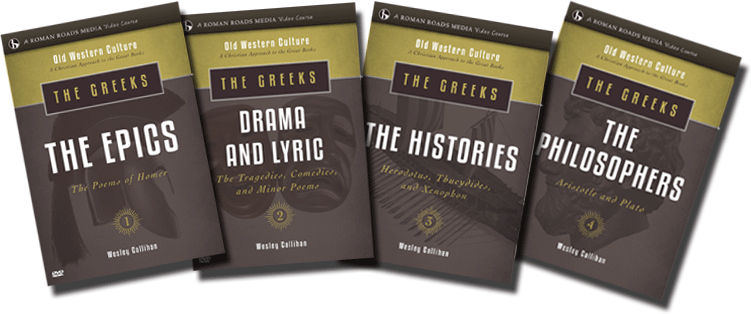 History and Literature
Old Western Culture is both a history curriculum and a literature program. You can give a full high school credit for each of those subjects, and if you use the art supplement in the front of the DVD you could probably grant a partial art credit as well. The website notes that this set is for 8th to 12th grade, but I would caution that an 8th or 9th grader should definitely be advanced to be studying this set. In fact, no matter what grade level you high school student claims, I'd almost certainly grant this as being an honors course. It's quite intensive and involves the reading of some very high level literature; my language nerd is loving it!
The entire set consists of the 4 units you see above:
The Epics
Drama & Lyric
The Histories
The Philosophers
Each of the 4 units comes with 4 DVDs, and each DVD has 3 lessons of about 20-30 minutes in length. So, each unit is made up of 12 lessons and contsitutes a quarter year's curriculum for both history and literature. If you school year-round, it is reasonable for it to take your student a leisurely 3 months to complete a unit, or 2 months for a more standard school year.
Make no mistake; your student will be reading some excellent works in history and literature. Just some of the titles and authors in this set alone include:
Homer (The Iliad and The Odyssey)
Herdotus
Plato
Aristotle
Sophoclese
Aristophones
…and many more, most of whom I'd never heard of before this course. I'm thrilled to have the opportunity to give my student a better education than I had!
But that's not all that comes with the DVD set. Also included are PDF versions of the workbooks that have study questions, and those are accessible online. Also online are exams and answer keys, as well as ebook copies of the primary sources your student will need (if available). Let me emphasize: if you purchase the DVD set, all of the literature you will need will be included in an ebook version online. Because this was crucial for us, I wanted to be sure you saw this! There are other versions as well, including links to paid versions including Kindle, but everything is available in some format for free.
Inside the DVD cases themselves is included a Guide to the Art for each unit. During the video lessons, many works of art are shown as visual aids. The Guide describes one main work in detail, and lists the names and details of the other works so that your student can research them online to enhance their learning experience. Even without the extra research, the guides are a fun addition that my own student has enjoyed thumbing through and perusing in his spare time.
A Christian Worldview
A Christian Approach to the Great Books
That's right! I haven't even told you the best part yet!
If you have any hesitancy about your student studying authors like Homer and Aristotle because of their pagan worldview, then please understand that this course is specifically Christian and specifically addresses some of those concerns. In fact, when the instructor (Wesley Callihan) is ending the lessons on Homer's The Odyssey, he explains that the pagan worldview expressed is very dim. He paraphrases Homer as stating that basically the gods control everything and we can't do anything to encourage or discourage our destiny; it simply is. Mr. Callihan calls this a dim and dreary pagan outlook, which it is, and then goes on to say that even Homer himself doesn't understand why he then still enjoys all the aspects of life.
He points out that we as Christians understand that to be the Holy Spirit. He injects this sort of thinking all the way through the lessons, and so I have not had a concern about my student being swayed by the pagan philosophies in the history and literature he is studying. Mr. Callihan does a great job, and in fact it is his entire purpose, to study the shaping of our culture through the lens of Jesus Christ. He manages to do all of this on a very astute level, and still remain engaging for the interested student.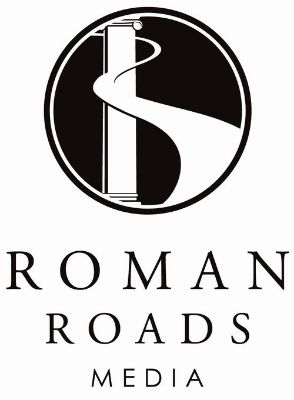 Mr. Callihan's lectures are… well, they are lectures. It is not a classroom setting at all, but he instructs from a chair in his office, surrounded by books. He is very conversational, and it is obvious that he is a very educated and learned man. (He'd have to be to be teaching this course, I'd guess.)
But it is also obvious that he is not reading from a script; there are far too many "ums" and "uhs" in his conversation for his lecture to be completely planned. He speaks very "up" if you understand; his vocabulary and sentence structure definitely cause you to pay attention, and this is part of why I said that this course is for the honors student.
I had a hard time listening many times, because with his talking "up," the "ums" and "uhs" were very distracting to me personally. My husband became frustrated at the up-talk itself and deemed the whole course boring. I assure you – boring it is not! I do think that it will take a special student who is honestly interested in the subject matter, and who is astute himself, to want to continue paying attention and thus ignoring what he can of the "ums" and "uhs." My own student admitted to having trouble following a sentence occasionally, but said that it didn't bother him enough to initiate any feeling of dislike towards the course (or the man).
The Videos
The way the program works is simple. It's a video course that your student can complete on his own. As I said, there are 3 lessons per DVD, and the units are designed so that it is not necessary to study them in order within a program, though you should probably finish studying The Greeks of Year 1 before moving on to The Romans of Year 2.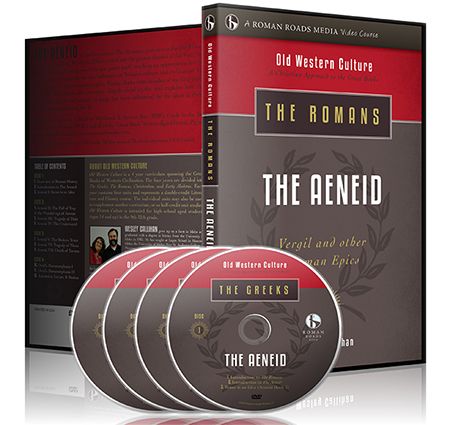 Your student will sit and watch the video lesson, most of which are almost 30 minutes long. The first lesson is generally also an introduction; in Unit 1 the introduction is to the entire course (including a fantastic explanation as to why there are not more Christian authors in most Great Books lists, and how this course seeks to remedy that), but he will also introduce each new history and literature idea, author, or set of studies at the appropriate time. He uses maps to explain where the authors originate, and the background of their own personal stories as well as the climate and current events of their time.
For the literature lessons, he generally assigns a set of reading at the end of each prior lesson. So, my student watched the introduction lesson and at the end of it was assigned to read the first four books of The Iliad to be prepared for the next lesson. This is fantastic in my opinion, because it is exactly what my student will be expected to do in college. The reading is assigned and my student has an idea of what is going on, though he might have questions, and then he watches the next lesson.
In that lesson, Mr. Callihan explains the events from the assigned reading. Much of this explanation is simply a play-by-play of events from the literature itself, but he also includes and expands based on the history of the times. Because Homer is famous mostly for his writings of the Trojan War, Mr. Callihan explains the events and history behind that war and ensures that the student understands that each of Homer's writings is only a portion of that historical event (and of what was written concerning it, as well).
Features
I mentioned the PDF versions of the workbooks that are available on the website for free with your DVD purchase. You should be aware that there are also available for purchase printed workbooks for $12 each. On that resource page are also linked free (and paid) versions of the books to be read, a schedule and course guide, and the exams.
The study questions that are part of the PDF or in the printed workbooks are actually all on the DVD, so these items aren't really required. My student discovered that the questions are the same, but the workbook version of the question is longer and more detailed, and of course you have space to write the answer. The workbooks also have a discussion question section that the DVDs don't offer. The DVD questions are linked directly to the place in the lecture where the answer is given, so that's a way to review, to check answers, or even just to study and quiz himself.
My student especially liked this feature because he uses the study questions as a review tool, watching the entire DVD and then going back and doing the study questions for all 3 lessons. This helps him retain it, and he found that there were several questions that he could answer effectively without checking the lecture and then use the link to assure himself that he covered it all. HE found that several questions he could answer in a basic form, and then was able to expand his answer after hearing the lecture again. And, of course, there were questions where he didn't know the answer and he had to listen again. Wouldn't we have loved to be able to record our college course lectures and listen again later?!!
If you purchase the full year's course on DVD, it costs $224. Again, that includes PDF versions of the workbooks as well as the exams and answer keys online, plus the Guide to the Art inside each unit case. It also includes access to the ebooks of source materials you'll need for the course. Printed copies of the workbooks cost $12 each or $48 for all 4 you'll need for the year. You can also purchase the units separately if that fits your budget better, and they run $56 for the unit. Each unit is enclosed in a single DVD case but it includes all 4 DVDs and the Guide to the Art.
Also available is a self-paced e-course available at $199. I didn't receive this course for review, but I wanted you to know that it's an option in case that works better for you. Don't miss out on this amazing course simply because of technology issues, or whatever problems there might be. This course is a little cheaper, and I invite you to check out the details!
You can connect with Roman Roads Media on Facebook, Twitter, Pinterest, Google, and YouTube. Do check out the other Crew Reviews! Some of them received the first unit from Year 2, studying The Romans. OThers received entirely different curricula, including American History, Latin, Economics, and a fun looking study called The Grammar of Poetry. Most of these programs have trailers not only on the website, but also on the Old Western Culture DVDs under the Extras menu.