We've been on an American history kick around here for a little while, so I was happy to have the opportunity to review some products from Memoria Press that are right up that alley! We received for the purpose of review both The Story of the Thirteen Colonies & the Great Republic Set and also the 200 Questions About American History Set. Both of these sets are intended to complement  the H.A. Guerber book of the same title and can be used together or separately.

American History
Our favorite and most anticipated portion of this review was the 200 Questions About American History Set. My boys have already been taking a history program online that they've done well with and enjoyed, but I have been concerned some about it being enough for a middle school course as it's geared towards elementary students. I thought that this set would be a good way to supplement the knowledge they'd picked up and fill in any holes – and I was right!
The set comes with a stack of flash cards including drill questions, timeline cards, notable quotes, and presidents. It was fun to use the cards to quiz them for a week or so, just to gauge where they were in their previous knowledge and how we might use the program best. They did know quite a bit of it from the first third of the stack already, but we found a few holes. Some of those facts they were able to learn simply by doing the flash cards, which we played like a game. My boys are 12 and 13 so it's easy to turn anything into a competition! If they got the question right and got it first, they kept the card. If neither of them knew the answer, I kept the card. This was a fun way to introduce them to the program!
The student book that comes with this set is mostly just the flashcards in workbook format, plus tests and quizzes. I used it to quiz my oldest student (a senior), just as a general knowledge survey. He's since kept the book with him so he can learn the presidents and quotes a little better. The teacher guide just has the answers.
History Curriculum
As the teacher, and the fact that we also received the H.A. Guerber text, was that the 200 Questions books have a weekly schedule recommendation in the front! It's not divided into individual lessons, but in general suggests a reading schedule of 7 chapters in a week. That works out to approximately 8 drill questions from the deck, and it also lines up which timeline events, quotes, and presidents questions and cards would fall within that week's study. Especially if you are looking to supplement another curriculum, or do a quick American History survey, I think that this 200 Questions set, along with the H.A. Guerber book, is all you'd need!a
If you need a full curriculum, I do think that adding the Student Guide (with teacher book) will round out a complete set. I would recommend it as a middle school course, or as a semester's worth in high school if done in full. This portion has full lessons, covering about three chapters each. A lesson acontains important facts (names, dates, locations, etc), vocabulary, comprehension questions, and enrichment activities including maps, timelines, and additional research with reports and compositions.
The Appendix is also very useful, with maps, a worksheet for the original colonies, and several primiary sources including things like The Mayflower Compact, The Declaration of Independence, The Constitution including the Bill of Rights and all of the Amendments, Excerpts from Thomas Paine's Common Sense, Paul Revere's Ride, The Emancipation Proclamation, and more. Most of these included both typed out versions as well as copies of the originals in the original handwriting. There are no periodic tests; the teacher guide includes the answers.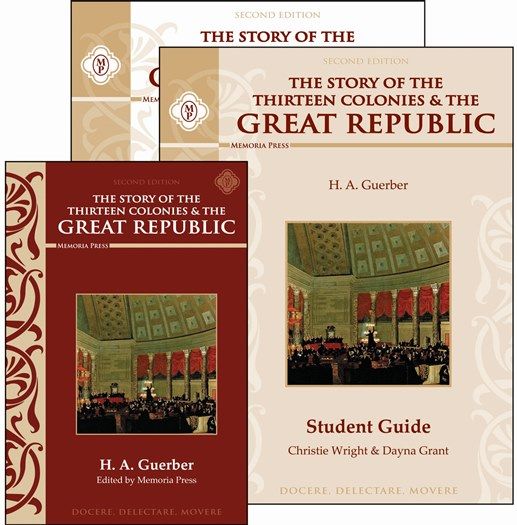 I was very impressed with this set. After being underwhelmed with the one thing from this company I'd seen previously, I am very happy with this combination of products and anticipate continuing to use this set with my middle school students. I'm reading the text out loud to them and having just my oldest do the Guerber workbook. The flashcards are a great way to review the material and keep the information fresh, and I'm so thankful for that schedule!
I do wish it was a little easier to use these together. The Guerber set has a set of worksheets every 3 lessons, but the 200 Questions set covers 7 lessons per week. The 200 questions set has the reviews, quizzes, and tests scheduled in, and the flashcards are great for daily review, but to get the worksheets you'll need the Guerber set. It feels like it's intended to use together yet the schedule doesn't jive very well. Honestly though, we're having fun with it and not following it precisely because we have the other main curriculum for the first part of American History, so I'm happy and we'll make it work!
You can connect with Memoria Press on Facebook, Twitter, Instagram, and Pinterest. Don't forget to read the rest of the Crew reviews! Some of them got the American History set just like I did, but some got sets for Iliad and Odyssey or for First Form Greek instead. Check it out!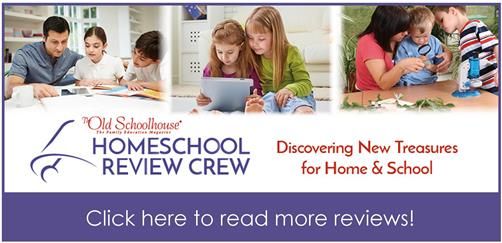 Save