I have four boys, three of whom are teens or preteens, and as a mom I long to see them grow up as fine, God-fearing, mature men. I believe that the best road to that destination involves the mentorship by their own father, and so was thrilled to have the opportunity to review the Manhood Journey Father's Starter Kit from Manhood Journey & City on a Hill Studio and to have my husband work through it with my older boys. The boys are 18, 13, and 12 years old, and as my husband works nights and a lot of hours they always enjoy the opportunity to spend time with him as guys!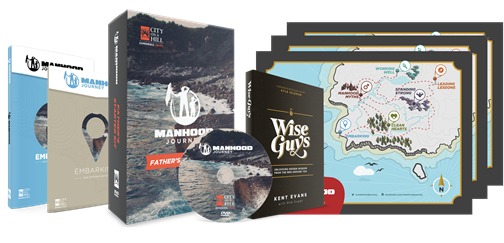 Biblical Manhood
The kit itself comes with several compenents, and the program is intended to be used with a group of boys. The idea is to use it maybe with a Sunday School group, or the boys in youth group, and I even thought it would be a good idea for use in our scouting-type program we've just implemented. But really, it worked pretty well with just my husband and our own 3 boys and would work well for a dad and an individual son, too. It's a discipleship program at heart, and this is the first module of that program.
group study guide

one on one activity and discussion guide for dads

DVD

maprochures

Unlocking Hidden Wisdom book
My husband chose to start the program by reading the included book by Kent Evans.
Save
Embarking
Essentially, the Manhood Journey Father's Starter Kit is the first section of the program, the module entitled Embarking. The DVD that is included introduces this module as well as the others in individual videos. It's not really part of the program, but you could use it as the opening for a group or just to tell your son(s) what you're about to do.
In this first module, the guide will help dads walk with their sons to answer questions like what a Godly man looks like and what key characteristics he has. It facilitates starting a conversation between the generations in a heartfelt manner; the video says that the young men start talking and the old men tell stories. That sounds like a great guy-night to me!
This module addresses the 5 Key Traits of a Godly Man:
He trusts the Lord.

He knows the Word.

He prays fervently.

He serves others.

He builds relationships.
I'm thankful that my guys are going through this study. My husband is definitely someone I'd consider a godly man, but while embarking to educate his sons in this intentional manner, I see him rising to the occasion and being a better version of himself because he's wanting to set the example. The program is reminding him who he is, and who he can be, and is inspiring him and motivating him to continue being that person so that his boys can confidently look to him.
The "maprochure" is exactly what it sounds like. It serves the purpose of a brochure, something that can be given to boys or dads to help get them into a group environment to participate together. The inside is a map of the modules. You can do them in several ways; everyone starts with the Embarking module but you can follow any route from that point forward that works best for your family or your group. My husband says that he thinks they'll look at doing the Clean Hearts module next, simply because that's where my boys are in their stage of life. I'm excited that he's wanting to continue!
You can connect with Manhood Journey & City on a Hill Studio separately. City on a Hill offers several other products, so be sure and check them out because they are more than just Manhood Journey! They each have a Facebook page – Manhood Journey, and City on a Hill. They also each have a Twitter – Manhood Journey and City on a Hill. Don't forget to check out the other Crew Reviews by clicking on the banner.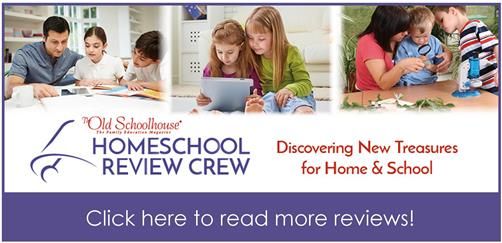 Save