I have a middle schooler who struggles with language arts, so I was ecstatic to have the opportunity to review the Gr 7 Lightning Lit Set from Hewitt Homeschooling. Drew is generally resistant to anything language arts related, but loves to read and is good at doing so, and I've really coveted a curriculum that truly uses literature to teach grammar and writing. I've found it!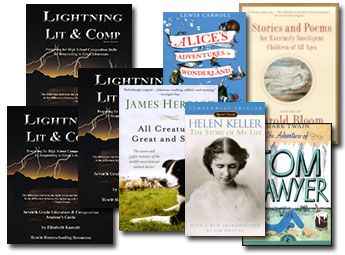 Literature & Composition
The focus of the curriculum is very much on the two components from the title, literature, and composition – writing. It does also include grammar and comprehension, vocabulary, and spelling as is involved in the writing process (and not as a directly targeted area at this level). The book choices are of excellent quality and the schedule – a weekly "to do" list instead of a daily lesson plan – is easy to follow. I do wish the student book included a copy of the schedule; it's only included in the teacher guide, but I found it easy to have my student follow the guide on his own and report to me.
The first week is the most involved for quite a while. The student is expected to read the story, the literary lesson about  plot lines, a mini-lesson about topic sentences and ways to open a composition, and half of the worksheets. There's no assigned schedule to the worksheets; it just says to complete half of them. Week two involves completing the other half of the worksheets and beginning work on the writing exercise. There are three exercises, tiered to level, and the student generally just needs to pick or be assigned one of them.
I must brag on the stories compilation assigned with this level and the next. Stories and Poems for Intelligent Children is one of the highest quality compilations I've seen in a very long time, and I was astonished at the number of stories included. It's a fairly thick book, over two inches even though it's a paperback, but it holds 41 stories and poems of exquisite taste. You can purchase the package with or without this book, but really – don't try to substitute! Just get this one – it's amazing and I'm sure we'll be using it as a read-aloud not only for this curriculum but for all my children for years to come. I'm truly impressed.

After that, for the next several weeks, the only assignment given is for the student to read a few chapters of the next book (Tom Sawyer, which we got online for free). There are discussion questions to go along with each chapter, which I like because I can have my student narrate and then ask him to cover anything he missed, or lead his narration with the questions, or just ask him, or even assign him to answer them himself.
The several weeks of only reading to do really excited my avid reader, but we found it more agreeable to try and do a few workbook pages at a time along the way rather than save them all for the end. This is probably just because of my student and his… reluctance to cooperate with anything resembling language arts. But I found it helpful to talk him through each worksheet before assigning it individually rather than as a group. The bulk of work all at once was a hindrance for us.
That said, I'm extremely pleased with this curriculum. It didn't start out too babyish for my student who is technically about to enter high school, yet it didn't assume much prior knowledge at all and left room for me to explain to my son any gaps in his learning he might have had. We started with nouns and pronouns and adjectives, y'all, and we needed it. My son is woefully behind in this subject and I think that if we keep plugging along that we'll find a happy medium with learning the art of our language and the joy of reading. We're in this for the long haul.
You can connect with Hewitt Homeschooling on Facebook, Twitter, Pinterest, and Google. Don't forget to check out the rest of the Crew reviews – everyone received a different level and some even received entirely different products.