I realized recently that I have done my older kids a disservice by not including geography in their curriculum, so I was happy to have the chance to review the Let's Go Geography digital curriculum for elementary geography! My  7-year-old twins are at about the first-second grade line, so I knew that this would be perfect for them. My older kids need geography too, so I was able to include them by allowing them to help me teach it.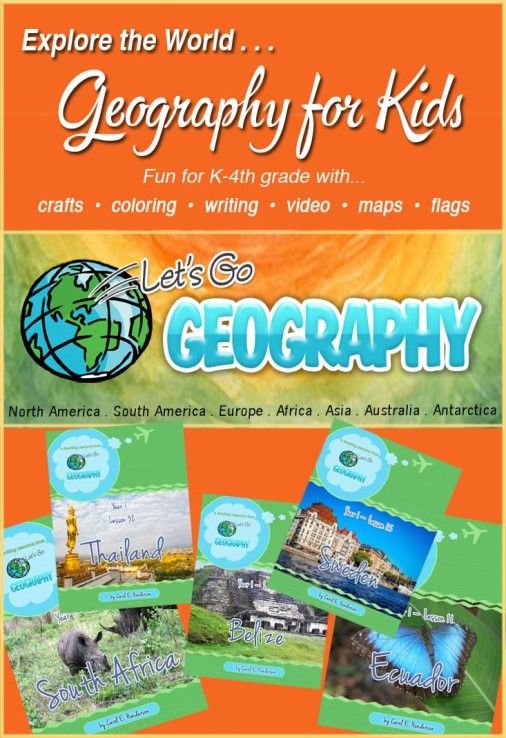 Elementary Geography
This digital program is year one of what is to be three years of elementary geography. This first year introduces the United States and North America, as well as the continents listed above by covering one state, country, or area at a time. It's designed so that it should only take a short amount of time each day and each lesson lasts a week, or if you prefer you can do the whole lesson and just cover it once each week.
This was a great speed for my kids, and we tried it both ways. To do it all in one day took about 2 hours, so we only covered the subjects in the curriculum and did some minor reading and math drills for our entire day. On the lessons where we took the whole week to do it, we spent about 20 minutes on geography. One of my kids takes longer doing coloring type activities, and sometimes there are several videos to cover, so this varies a little but I could pretty much plan on 20 minutes as an average.
Part of what I love about this program is that it includes music and art activities. Those are two subjects that we have a hard time fitting in to our schedule, so I love that by using Let's Go Geography I can automatically mark those extra-curriculars off of my to-do list! It just really makes me feel like I'm doing "enough" to be able to say we covered these things, and it's already put together for me.
We loved having an older kid help teach. My high school student was perfectly capable of reading directions to the younger kids and helping them find the answers to the questions as well as making sure they completed each task. Since my older kids haven't had geography either, they are being able to pick up on these facts and skills simply by helping their siblings – whether they realize it or not! Many of the music and "explore" activities are YouTube based, so my older kids certainly get a lot out of watching those.
The entire lesson is pretty diverse with learning styles and contains several "optional" activities for kids who might be a little older than mine. We skipped the notebooking section as mine aren't really writers yet. We also skipped the photo album for printing considerations. The basic lessons do follow the same format, and my  kids loved marking off the list:
Map work

Flag study

Music

Explore

Create
This is one of the most successful curricula we've used in a while. The kids all loved it, the big ones are happy to cooperate with it, I have time to get in a few Mom duties around them while they work… and it comes all set up for me. All I have to do is print and go. Drew works from the computer some, or since the documents are PDF-based I can email them to my kindle so that someone else can use the computer while the three of them work nicely together. Such a breath of fresh air for me and we will definitely look into continuing with this elementary geography program!
You can connect with Let's Go Geography on Facebook and Pinterest, and don't forget to check out the other Crew reviews!