Beginning piano programs and sorting through them all can be overwhelming, and it's hard to even know what should be taught and how early to start your beginning piano students. KinderBach is a beginning piano program easily usable in homeschool available online that is for approximate grade levels of kindergarten through second grade. We were privileged to receive The KinderBach Online Piano Lesson Membership with Teacher Corner to the site for the purpose of review, and used it with my three youngest kiddos.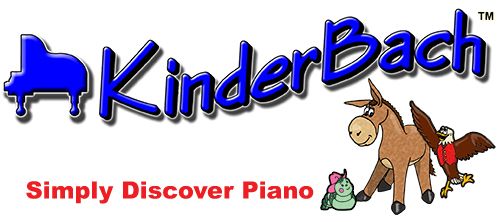 Beginning Piano
KinderBach is a beginning piano program for young students in a home education environment. In other words, for little homeschoolers! As a musician myself, I was excited to have the opportunity to review the program. I'd heard about it previously but never looked at it closely. My twins, just three years old, are a little on the young end and my youngest student is nine, which is a little on the oldest end for the program. My conclusion on the age recommendation is that it's totally accurate to say this beginning piano program is most appropriate for K-2. I also agree that students who are "a little too young" or "a little too old" can still garner from the program.
My twins aren't used to sitting and "doing" school just yet, but they were (usually) willing to sit and watch these videos. They loved watching and were always excited to do the coloring and activity pages afterwards! But, because they aren't really used to sitting and doing school, they just weren't always interested or willing to participate and even when they did want to sit and watch they would often become distracted and wander off before the lesson had really gotten into them. Sometimes they would watch the video and not want to do the activity, and often they weren't able to retrieve any learned information. Oh, well – it was fun anyway and I think it's great practice for them as we start introducing the whole "sit down and do school" concept. A little at a time, I think they will continue to play with KinderBach so that the concepts are all very familiar by the time they are actually ready to sit down at a piano.
My nine year old son is a little over the recommended age for the program, but he's really getting quite a lot out of it. The program is set up so that you watch a video, about 10 minutes in length, every day for 4 days. Then there is also an activity for most days. Altogether, with any age, the lessons should be around 20 minutes. After 4 days of these lessons, you move to the next week of lessons within the level; there are 6 levels with 10 weeks each.
With KinderBach being geared to a fundamentally younger student, my middle son was able to do a "week's worth" of lessons in a single sitting. So, he did several "weeks' worth" in every actual week. There are 4 lessons per "week" but since he was doing at least two or three "weeks" every week, he was able to move fairly quickly through the program. He skipped most of the activity book, because he just didn't have a need for the reinforcement.
But, I can tell you this, that it is definitely providing the musical foundation he needs and where I have lacked covering him myself. (I went to college to be a band director; we all see how that turned out!) He has had holes in his musical education and I hadn't had time to go back through, sit with him, and figure out what he was missing so that we can cover it and he can move forward with learning to play guitar like he wants to do. But, now with this program, I'm sure that his holes are or will be filled, and we can move forward.
A Musician's Note
As a musician myself, I am really quite picky about programs. There are certain methodologies I just don't like, and certain "cheats" to help kids remember the note names and finger positions and the like, that I just don't think are a good idea because they can confuse and are a difficult habit to break.
Honestly, this program has a couple of those. Also honestly, for the age group it's geared towards for use, and with the continuation of a great piano program (and this would lead great into any of those), I think it would be fine. There's nothing damaging or crippling to further education and musical growth that I could find, and I think the range of theory covered is completely appropriate for the age group. That said, I've not ever been one to teach music or piano to this young of a child. I'm glad it's available and I think that as my twins age up some and gain and garner interest, that it will serve to provide the firm musical foundation I hope for them to have.
In all, we've enjoyed this program and will continue light use of it with the young ones, and a quick finishing up with my middle son as preparation for instrument learning. It's one we're keeping on the schedule.
Right now, The KinderBach Online Piano Lesson Membership with Teacher Corner that we specifically were using is on sale! The normal price of $130 per year has been reduced to just $95.88 a year! Now, to figure for budget and thinking about what piano lessons cost, this works out to just $7.99 each month for a year. Completely worth it! Go give it a look and let me know what you think. You can connect with KinderBach:
Facebook:  www.facebook.com/kinderbach
Facebook for Teachers:  www.facebook.com/classroomkinderbach
Twitter: @KinderBach
Pinterest: https://pinterest.com/KinderBach/
YouTube: KinderBach Preschool Piano
What does homeschool music look like in your home?