Homeschooling can be scary. But once you get over the initial fears, you have another fear to overcome…that fear of how will you be able to afford it. Looking at all the pretty homeschool curriculum catalogs, you see the wonderful products you can get to give your child the best of the best for an education, but then, the price shows up and you falter. How will you do this?
Join Amanda from Hopkins Homeschool in this guest post!
That is exactly how I felt when I realized that I was called to pull my son out of the middle of his 6th grade year of school. Yes, we had been already working on homeschooling Ray Ray, but that was preschool. I still had time to plan. But to suddenly need half a year's worth of curriculum, actual curriculum, I was worried, and stressed. How would I do this?
Prayer
I did what any loving mom would do, I prayed about it. This helped me learn a lot about homeschooling in a matter of Christmas vacation. Praying about the troubles Moe Man was having at school, is what told me that I should be homeschooling him, so I figured that if I prayed about this new "problem", I would find my answers. And I did.
Pinterest
After praying, I went to Pinterest. I figured I could get a good idea of budget worthy homeschool ideas here. And I did! Did you know that you can take a topic your child is interested in and make a unit study out of it? I didn't, but now I do! Pinterest lead me to sites that showed me how to make my own unit studies, use resources around the house to make science lessons and how math can happen at the grocery store. While it may not be the full curriculum, it was enough to get me started, and is still my go to when the learning gets boring and I need to add something new into the "normal" days.
Library
Once I learned about making my own unit studies, I also learned how valuable the local library really was. Our library has an inter-library loan option, so I was able to request books from around my area with this feature. Reading is a great way to have learning happen. When all else fails, pull out the books! We spent many a times just sitting down in the library reading, or checking out the books and bringing them home to read. Always having books around to read is a great way to help with learning. And using your library is free, unless you have late fees, but that is another matter!
Notebooking
Memorial Day Notebooking Pages from NotebookingPages.com.
Have you heard of this fun way of learning? Notebooking is a way of pulling the learning in your daily life and writing it down in a fun way. The amount of material that is available at NotebookingPages.com is enough to help supplement almost any subject in your homeschool day. Not to mention, if you use living books from the library mixed in with this, you possibly use this as a class!
Along with notebooking to living books, we love notebooking outside! Especially for the younger grades, we do nature studies instead of a crazy expensive science course. Heck, all you need is some nature and a pencil and paper, or pen. Add in fun notebooking pages and that makes it more fun!
Nature Studies
Unless you have a high schooler, you should be able to utilize the nature studies as your science class. We love utilizing our notebooking pages while we sit outside and enjoy the weather. We love drawing and describing the tree in our front yard each month and comparing how much it has changed over the previous months. Taking a walk around the neighborhood and jotting down the changes in weather from day to day. Checking out and comparing leaves from one tree to another is always fun. Even watching the clouds while learning about them from a library book or the internet is fun and simple!
Internet
While it is not necessary, but having the internet is a great way to homeschool on a budget. There are so many great sites that offer low cost or free lessons. If you want a free full curriculum, Easy Peasy at allinonehomeschool.com is where we went for us first 3 months while I tried to figure everything else out. We still go back there often when we don't know what else to do or just need a break from our current curriculum. If you have some money in the budget, SchoolhouseTeachers.com is another great resource. We love finding fill in classes here and Mom gets to take a few lessons as well! Not only that, but the internet opens so many other learning opportunities. You can access encyclopedias, dictionaries, libraries and so much more!
Buy Used
If you find that you will need to purchase materials for your homeschool, find it used! Many items can be found second hand. There are many places to find these items. I have found great books for sale at the thrift store that I would have paid 3 times the price if I had bought them new. Very rarely will I find a textbook at the thrift store, but some great classic reads can be found there.
Second Hand Books is another favorite location of mine. While I am not allowed to go there often, when I break free and get my chance, I will spend almost the whole day in there! Sometimes I walk out with some great deals, other times I just walk out with a great big wish list.
FaceBook has a bunch of used homeschool sale pages. When it comes to curriculum, this is my favorite place to look! There is always something that I want on these sites. All you need is a PayPal account and a good eye. The best time to look at these pages is usually the end of the typical school year, or the beginning of the next. While I watch the pages all year, these are the two times that I find the best deals.
While homeschooling alone can be a scary thought, you do not need to worry about the curriculum. No matter your budget, whether hundreds of dollars, or just ones. You will be able to give your children the best of an education if you just spend the time with God and a little research.
What is one tip that you have for homeschooling on a budget?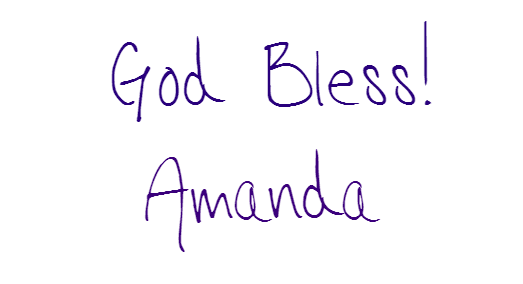 – Thank you to Amanda at Hopkins Homeschool for writing this guest post.
Amanda is a homeschooling mom to 4 kids who range in age from 16 down to 2 years old.