I had the pleasure of receiving for review a Horizons Kindergarten Health Set from Alpha Omega Publications. This is a company that we've used some of their other products in the past, so I was interested to see how the Horizons matched up with the rest. My twins were excited as this was their first "real" school curriculum! They'll be 5 years old in just a couple more weeks, so it's time to start Kindergarten!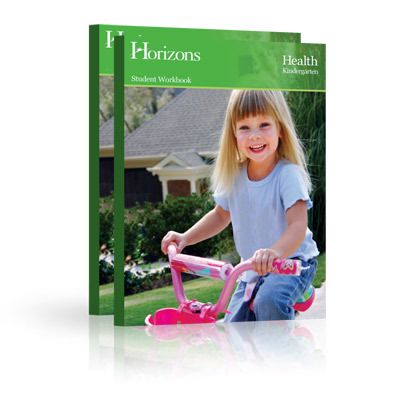 Horizons
Having never used the Horizons packages before, I was comparing this in my brain to the products I've used from AOP in the past. We've used both the LifePacs and the Switched On Schoolhouse sets. Horizons is different; it's neither workbook nor computer, but at least our set was more geared towards an involved teacher presenting a lesson.
The teacher guide is absolutely necessary; it's really where the curriculum lies. I found that the best way to do the lessons was first of all for me to read it ahead of time! I'm not much of a "prepper" honestly, so this was something I had to get used to doing so that I could have any basic materials ready for our study. There aren't many things required, but for instance one day called for puppets. I wanted to make our own so I started looking for the lunch bags I know we have, but couldn't find them so we ended up using teddy bears instead.
Sometimes the materials are in the Student Workbook, but not every lesson has a corresponding workbook page. Sometimes the workbook page is just a visual aid and isn't actually "workable," but even then it's usually colorable and kept my twins engaged. I was glad to see that it wasn't a full-out workbook curriculum; I'm not sure my young kindergartners would've been able to sit for that.
All in all, this is a fun and engaging curriculum. It's probably not the approach I'd have chosen to use with my kids, but honestly it's the one they need and will cause me to be intentional with my kids. The Health topics covered include:
Created Unique

Emotions

Families

Death

Manners

Body Awareness

The 5 Senses
Each lesson only takes about 15 minutes. We discussed the concepts, and while it's not fully scripted in the teacher guide, it is explained and outlined for you to have your discussion with the kids. After the discussion and usually that includes some sort of demonstration (like with our teddy bears), there are several activity suggestions. The way it's laid out, it would be easy to do all of the activities, and it's also easy to do just one or two.
Some of the activities are very obviously geared towards using this curriculum with a larger number of students, such as in a private school setting, daycare, co-op, or even a larger number of homeschool students. If I had a first grader, two kindergartners, a preschooler, and a toddler, this curriculum would totally be usable with all of them! The only issue I can see with that sort of setup is that occasionally the workbook pages ARE workable, and the copyright doesn't allow for copying and I don't see a way to order just extra student books on the website.
Dear AOP: you might consider altering the copyright on this product to allow for use with  multiple students in the same household, or at least offer reproducables in addition to the set!
The curriculum fits well with our "purposefully Christian" approach, and since I do have two students to use this with, it was fun to have an engaging setup for them. Horizons would work with even one student; I just happen to have two and that made it more fun! (And honestly, it made me feel less silly….) I'm glad to have had the experience so that I'm more familiar with the spectrum of curricula available through AOP. They are one of my favorite Christian curriculum providers, and we will continue to look to them as we consider our books each year. Horizons is the perfect approach for my little homeschoolers!
You can connect with Alpha Omega on Facebook, Twitter, Pinterest, Google, and Instagram. Don't forget to read the rest of the Crew reviews – everyone is doing Horizons but not everyone got the same set I did. Horizons is for preschool through 12th grade, though I often think of it as just for the younger grades. The Crew reviewed sets up through third grade.