Everyone has seasons where they are overwhelmed, and homeschooling moms are no different. Heather Aliano of Only Passionate Curiosity has created a course for new and overwhelmed homeschooling moms called Homeschool Rescue, and it does exactly what it sounds like it should do. If you aren't sure where to begin, or are floundering in your current stream and need help keeping your head above the proverbial water, or maybe you're just in a season where you need a complete overhaul from whatever your "norm" has been, you'll want to check out this course!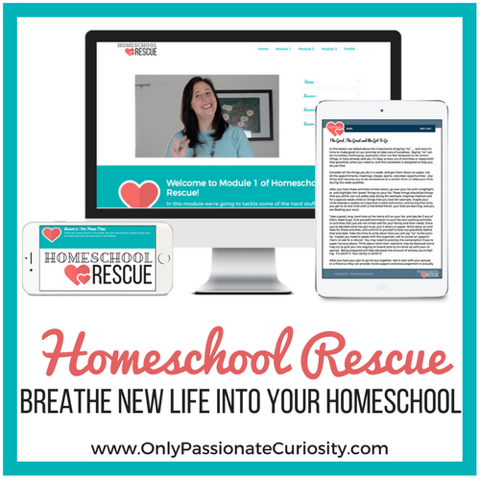 Help for Homeschool Parents
Heather lays out a fantastically basic yet very detailed plan for homeschooling in this course. The first module is all about the basics; she advises that you do a heart and reality check and make sure you're in a position to be taking on the serious obligation of educating your own kids and really walks you through some time and home management steps. She talks about curriculum and how to choose it, schedule it, and actually use whatever you choose. Then she winds up with discussion about kids and discipline, and a full module directed towards moms with older kids.
Each lesson has a video to watch; some are as short as about 5 minutes and some have been closer to 20 minutes. If you prefer, or maybe like it in addition to the video, there's also a transcript to download for every lesson. She also has provided a "notes" download which has pictures of the slides used in the video as well as lines for you to take your own notes. Then every lesson has homework, usually in the form of downloadable documents at the bottom of each lesson page. Some of these are simple, or at least not overly time consuming… and others are extremely time consuming, but very worthwhile!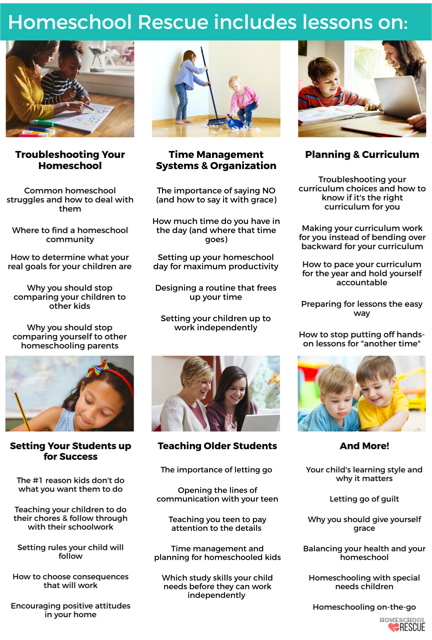 Personally, as an 11 year homeschooling veteran myself, I found nuggets of inspiration and wisdom through the material I've managed so far. Because the homework often requires serious thought, I haven't made it through the entire course yet. I'm loving the journey and the flexibility to do this course on my own schedule! The schedule Heather provides keep me on task and helps me remember where I left off as I do each assignment and mark it off the sheet.

Some of the most helpful assignments I've done so far include a list of things I want my children (all of them, in general) to learn before they graduate, a homeschool mission statement with input from my husband, and finally having accomplished keeping track of my "usual" schedule by small increments for an extended period of time. All of these things are contributing to the reboot my homeschool so desperately needs, and I've appreciated Heather's fresh look and insight while I deal with my current season of burnout.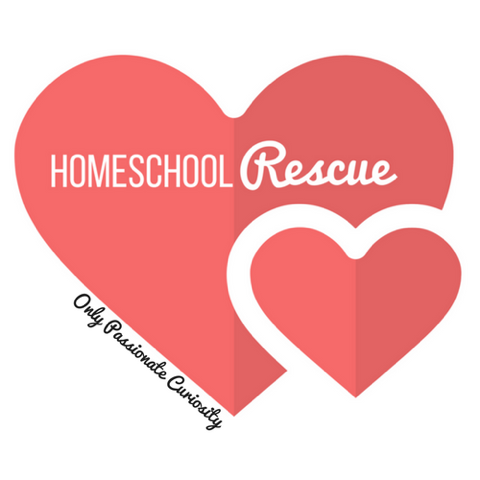 I think many moms will benefit from this course. Especially new homeschooling moms, or those who've been homeschooling a while and just have lost their gung-ho and what-for, will benefit from this course. I also think there are moms out there who've found themselves in a situation where you have had to pull your kids home and really have no idea how to do this homeschooling thing and just aren't the organized type – this course will definitely give you a heading and a foothold so you can get started with what the Lord is calling you to do in this season.
And for us veteran homeschooling moms who've reached a season of burnout, Heather's course is a fresh set of eyes and every module has contained at least a few nuggets that I've found beneficial. We all live in seasons, and Homeschool Rescue is helping me through mine.
You can connect with Heather through Only Passionate Curiosity, on Facebook, Twitter, Pinterest, Instagram, and Google. Don't forget to check out the other Crew reviews!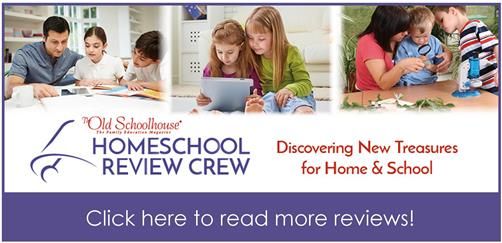 Save