I'm a planner by nature, and have searched and searched for an online homeschool planner that would work for me. Homeschool Planet isn't just an online homeschool planner, but a digital planning program that can help with many aspects of life! Homeschool Buyers Co-op granted me access to the planner in exchange for an honest review.
The thing about Homeschool Planet is that it is so highly versatile that you can use it any way you want! In some subjects and areas, I like to have a plan. I like to follow the list and just do the next thing. But in many school subject areas, I DON'T like or enjoy sitting and writing out a whole plan. Part of the reason I don't is because the way our life works, we just don't always get to each subject every day. And then my plan is ruined, and I have to do it all again. Folks, it takes to long to plan to have to redo it every week AND plan for next week.
But with Homeschool Planet I have the option to schedule some things, and then use some things to add in the assignments later. I can create a class and then assign actual individual assignments to my students, like I've done for our Veritas Press history course. That's a priority in our house, because it has a deadline when the kids won't be able to access the program past; so, they must stay on schedule in that subject. I can make a plan and it helps to have the checklist.
But with subjects like art, science, reading, and more – especially right now during our summer lighter schedule – we don't always get to them and I certainly don't have a prescribed plan that they need to be following. But I can create a class and schedule it. I did assign times to our classes, mostly for my brain's sake and helping me recognize the priorities each day, but you don't have to assign times.

Do you see the "Reading Activities" and "Art" subjects at the bottom of each day? We have a different "fun" activity for each day (supposedly…), but I don't necessarily have planned activities for each. (Pinterest is my friend!)
I also put in some subjects that DO have a specified order or plan, but I didn't necessarily mark down the entire Table of Contents because we don't necessarily do those subjects every day. (Watch for a Project Passport review coming soon!) Some of our programs are already online, such as the boys' math programs. Because it's got its own planner, I don't need to enter the lessons into Homeschool Planet. I just need to know that they've done it. With my high school student, I can go back and enter the specific lessons he did on a day after he's done them. That's such a relief to me, to not have to sit and enter all the lessons just to have to move them around!
But if I needed to move them around, I can totally do that. See this little "Helpers" button on the menu? It's my best friend! The drop-down menu includes a Rescheduling Helper, where I can go down the list and click to mark as finished (because I'm horrible about actually checking in every day, even though Homeschool Planet sends me a daily email to make it easier), or mark it as not done but leave the schedule alone, or as not done and bump everything forward one day, or leave it alone (aka "I'll do this later"). And if I don't check in or mess with the schedule all week and just want to do it all at once on the weekends, fine.
Because the planning portion is always my biggest setback in an online homeschool planner, I like that I don't HAVE to input every lesson in order for this program to work. That means that this one might actually work for me! There is so much potential and so many things you can do with this, that I haven't had time to explore them all yet and I can't wait to read my friends' reviews to see all their ideas!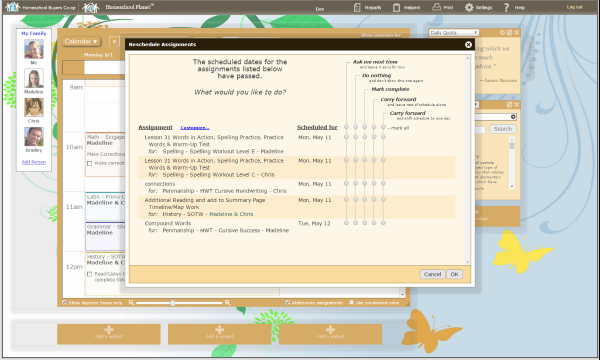 That page looks a little different? Because there are almost 2 dozen themes from which to choose so you can personalize your planner. There are several themes I like, and I'm still playing with which one is my favorite!
One of the most fun aspects is that you can create calendars for each individual person in your family, so you can look at them separately and even print them out. But you can create "persons" so that you can just have extra calendars, too! There are "to-do" lists, ways to assign chores, and more. The furthest I got into playing with it outside of being an online homeschool planner was to input my direct sales business activities. I have parties both locally and online, and I've exchanged parties with other reps. I have vendor shows to attend, and trainings. Those need to be on my calendar so that I can plan for what's going on at home when I need to be gone. Homeschool Planet is finally helping me do that!
The thing is, there is so much you can do with this that there's no way anyone can explain it all. The tutorials on the site are great and help the overwhelming sensations to back off so you can get started, but after that it's up to your creativity as to how many ways you can use this. Please don't forget to check out the other Crew reviews! I'll be doing so, myself!