Homeschool Legacy is one of my favorite companies, so I am excited to be bringing you this review of their Thanksgiving with the Pilgrims Once-A-Week Micro Study! This is geared for grades 1-8, and I have four kiddos in that age range, so I knew it would be a blast for us right here before the holidays. My first graders aren't used to doing history or science every day, so the once weekly pace I knew would be perfect for them. I was happy to discover the options to expand it for the older kids as well!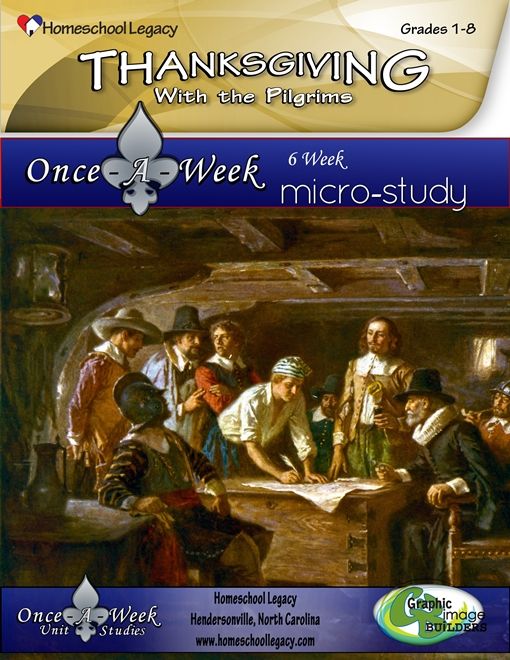 Unit Studies
Homeschool Legacy offers unit study materials, so I was interested to see how those are different from these "micro" studies. The way it works is that there is a little bit of history reading – a page or less – on the topic at hand. I had my big boys read this themselves, and I would read it myself and convey the information to my younger students rather than reading it to them and expecting them to remember it.
After the history material is a short comprehension activity, such as vocabulary, geography activities, links to documents and fun videos, and more. Following the activity is generally a vocabulary section; this I let my big boys read and click through the activities, while my twins and I just discussed it.
Then comes a last section, often with government topics, but also as the study goes on this is where the most fun activities are including recipes, games, research projects, and much more. The entire study is full of fun ideas and links to online games, websites, and videos that will expand the study and make it interesting even for the little kids.

Literature
To me, one of the best parts of any unit study AND the best part of studying history of any time period is the literature! I was a little disappointed in the literature for this particular study, to be honest. It listed three options of books, one of which we'd already read, one of which wasn't in a library near us, and the other was checked out for the period of this review. I was able to make due with some other titles, but I'd have loved to have seen a bigger list – even one that had a half dozen or so suggestions per grade division (or at least every couple of grades, like 1/2, 3/4, and 5/6).
The literature was listed at the beginning of the first lesson; I'm not sure if maybe other micro studies have more literature listed than that. This study is 6 weeks long (or 6 sessions, however long you choose to do it), and the only other literature was in the last week. That last week is dedicated more to Christmas, and A Christmas Carol is the suggested literature to have the family read together through December. It's a great suggestion, and I see how the theme of that book fits with the Puritan lifestyle largely discussed in the study, but I was a little disappointed to have a Christmas week in such a short study that's supposed to be about Thanksgiving. Really, it's 5 weeks of Thanksgiving and one for Christmas….
But… that might make it just perfect for you if you get it right now! Week 4 has some great recipes for feasting, and Week 5 has the kids stringing cranberries and popcorn to decorate the tree. I know that around here, tree decorating is THE activity for the day after Thanksgiving! The eBook format is perfect because of the links. There are no worksheets or cut-and-paste activities to print out, which was perfect for this season in our family. Just actual hands-on activities and links to follow with little to no prep from Mom!
I'll definitely be looking to gather up more of these Micro-Studies in the future! There's even some for Christmas, and I'm sure that some of the other Crew members reviewed those. Don't forget to check out those other reviews! You can connect with Homeschool Legacy on Facebook.