I have a high school senior who is looking at college options, so I was excited to have the chance for him to review the High School Essay Intensive program from Institute for Excellence in Writing (IEW). While he has had some writing instruction in the past, it hasn't been a lot and I was excited for him to use the unit on SAT Essay preparation.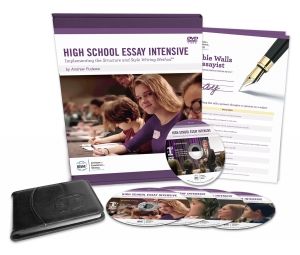 My son was diagnosed in elementary school with a language processing disorder, one that used to be on the autism spectrum but isn't considered HFA any longer. Because of his unique learning considerations, we didn't address writing until late in his education. Because of his excellent understanding of grammar and language rules, it hasn't been difficult for him to pick up good writing skills and IEW is where we started. Most of the rest of this review was written by my son himself.
The curriculum consists of a DVD set, a folder that doubles as "portable walls," and a set of papers stapled together to accompany the DVD lessons. Students are required to watch the DVD lessons and follow along in their "handouts," taking notes in a separate spiral-bound notebook as they go along. 
For our purposes, my high schooler watched the video from unit 3 focused specifically on SAT essay writing. He took notes in his notebook while interacting with his handout. At the end of the video session, the instructor, Andrew Pudewa assigned Christian homework, which he was to execute on a long-term basis by practicing his newly acquired writing skills on magazine articles, and the like.
The biggest thing Christian learned is the process of taking notes within the source text itself, writing in the margins and using underlining and highlighting techniques. In the new SAT essay, the student needs to examine a source text and examine how well the author conveyed his intended message and supported his argument. Essentially, these days the SAT essay is a critique of someone else's writing. I personally didn't know that and we wouldn't have been aware of it without this course!
After doing this note-taking and editing, the student writes an essay with an introduction, analysis, and conclusion. Christian says you pretty much need to have an understanding of basic essay and writing practices before this course (or at least this unit) would do you any good. Of course, if you start at the beginning of the program, that foundation is laid for you.
The other units in the program include:
General Strategies for Essay Writing – Part 1: Length and Structure

General Strategies for Essay Writing – Part 2: Invention and Style

Understanding and Preparing for the New ACT Essay

Strategies for the Personal Essay
We have used and enjoyed IEW curricula in the past, and this installment is just as pleasant. Christian liked this curriculum, and will be employing the skills taught within. He'll be taking the SAT within the next few weeks, and this is a product I'm happy to have on the shelf for my other students as they grow into it.

You can connect with IEW on Facebook, YouTube, Twitter, and Pinterest. Don't forget to check out the other Crew reviews!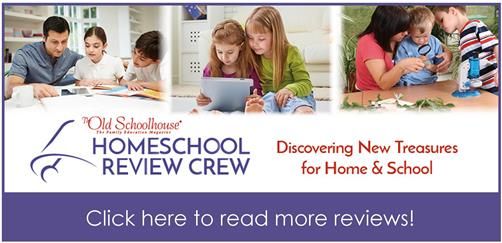 Save
Save