Earlier this month, I posted a review of a great printable handwriting set by Gentle Shepherd (see that post HERE), and I mentioned that she also carries patterns for felt toys. This week we have had a blast playing with the Fuzzle Family felt toys!
I received for the purpose of review, an entire Fuzzle Family felt toys pattern set. The set includes some great instructions and all the patterns you'll need to create an almost unlimited variety of fun little felt people and their world. Besides the house and people pictured here, there's also a car, pets, trees and shrubs, a fence, sun and clouds, even a toy wagon! It also includes some instructions for making a felt board by covering plywood with felt and duct taping it on the back.
We had a lot of fun with these! Now, I will say first that I didn't follow the instructions the way they are presented. I didn't have enough felt or in enough colors to really make it do great, and for our purposes I just wanted a simple family set for my toddlers to play with and keep quiet for a while. That's part of what I love about this set, is that it's versatile enough to do as simply or as fanciful as you please.
The instructions say to cut two of the people patterns and then sew them together, sewing on facial details before you get the heads permanently fused. Then you can sew on the clothes and embellish, even add hair to these cute little people! I wasn't ready to do all of that, and since I was looking for an interactive set where my kids can change out the clothes I knew I didn't want to sew the clothes onto each individual doll. I could still take and fancify each individual piece of clothing and they would be able to do the same things, and as my little girl gets a little older I will probably do just that! Here's an example from the Fuzzlemania Etsy shop as to what you might can create with these patterns!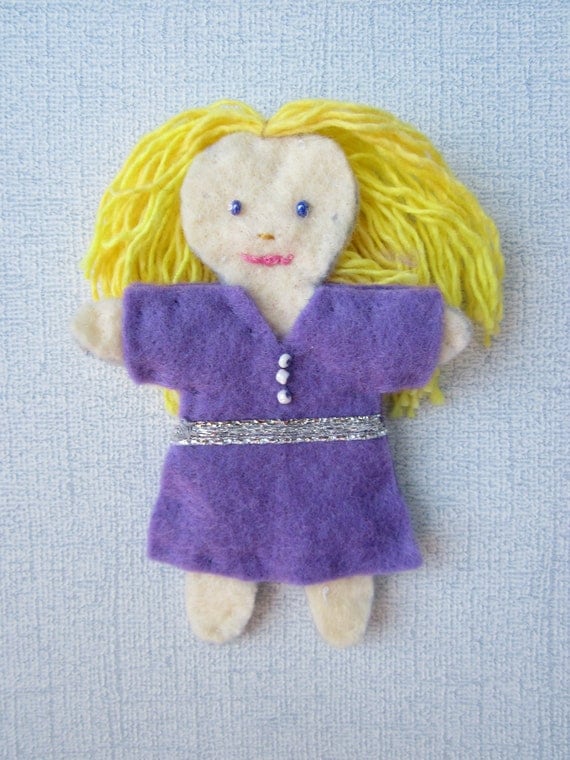 Isn't she cute? The possibilities for accessorizing and decorating the cute little clothes are endless! Besides the clothes I pictured my felt people wearing, there is at least one change of clothing for each size. There's also a baby size pattern included, but I didn't make one since our family no longer has any tiny babies in it. I might still have to make one just to make my little girl happy; it can be her felt person's dolly, I suppose!
While the instructions suggest sewing together the pieces, I think it would work just as well to hot glue the pieces together. I'm a big fan of fast, and while the hot glue might be messier than sewing, it would be less frustrating for me personally and I would get it done a lot sooner. The point is to make the toys sturdier so that they will last longer, and I might still go through and do this (once I can get more felt). I've planned on making a felt board for the twins for a long time, and will be using hot glue to do that as well.
Keep an eye out this fall for some preschool homeschooling posts featuring a felt board and felt stories, and I'm sure we'll be using these Fuzzle Family felt toys in a lot of those! Don't forget to check out the shop on Etsy, see what creations she has on her website – including some homeschooling material, and find more great projects and ideas on her blog. You can also find Gentle Shepherd on Facebook, Twitter, Pinterest, and Google+ for more projects and homeschooling ideas!
Fuzzlemania has created a discount coupon just for For the Display of His Splendor readers! Just enter the code HOLYSPLENDOR2013 at checkout to receive a 25% discount on your purchase from Fuzzlemania on Etsy! In addition, we are giving away 3 digital copies of the Fuzzle Family felt toys pattern! Just enter using the form below! Blessings!