Most homeschool moms are looking for a way to get it all done every day; I know I have been! I was blessed to receive for the purpose of review a new book by Mary Jo Tate, entitled Flourish: Balance for Homeschool Moms  and published by Apologia Educational Ministries that addresses this topic on several levels. This book takes a new approach to an old standard topic and makes it relevant to today's homeschooling moms who are not just stay at home moms, not just teachers, not just meal planners, but also may have challenges such as chronic conditions or very often are trying to generate an income from home while keeping all of their other hats balanced as well. I wonder if that's how she decided to add the word "balance" to the title?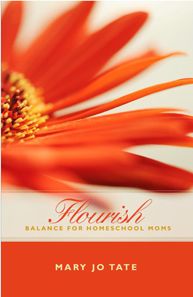 Balance
We all strive to achieve blance in our lives, but it seems that as homeschool moms we have more hats to juggle than anyone else! We are not only the cook, launderer, housekeeper, and chauffeur but also the teacher, the counselor, the planner, the social outlet. Often, Mom also attempts to bring in additional income from home, or sometimes deals with chronic considerations. All of those things get in the way of all of the rest of them, and it seems to me that sometimes I'm just chasing my own tail trying to get things done.
That said, I'm a planner by nature and I've come up with some really great plans… and seldom stuck to them for long. I've also done goal planning, even breaking the goals down by the year and sometimes further, but again, that never really sticks for very long. In Flourish, Mary Jo Tate gives some great practical ideas and steps to take that incorporates the best of goal setting AND planning. She's very encouraging in the areas of entrepreneurship and understanding of health things that just make some of our lives a little different than the ideal. We have a different definition of "normal" and we have to take that into consideration when making our goals list.
Flourish
Mary Jo doesn't just want us to get everything done (in fact, she points out that maybe getting everything done shouldn't be our goal and might not be the ideal in the first place); she wants us to flourish and thrive in all that God has called us to do as homeschool moms and wives. (She even has a chapter for single moms; she is one herself! The chapter has helps for married moms in reaching out to those individuals as well.)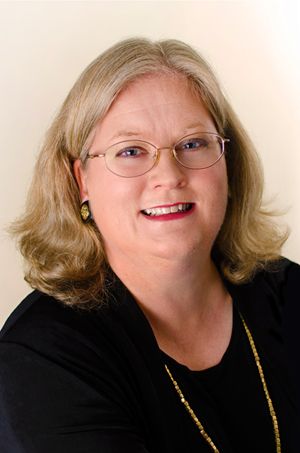 I really want to encourage you to check out
Apologia's Flourish page
and see the Table of Contents. The chapter headings might not give it all away, but I love the subtitles for each chapter. You can really get a feel for what all is included here by browsing the TOC. Probably the most helpful things to me included the actual schedules she uses and the article about how her actual day went on a typical (albeit atypical) day. I think we as homeschool moms need to see that others don't get it all done any more than we do, and give ourselves a little bit of grace!
Another thing I loved in this book was the very first few steps. I've done the goal planning, even the "what do you want your life to look like in 50 years" thing (Mary JO calls it the "big dream"), but I've not broken it down quite the way she has instructed in this book. She finally has a system that I think will work for me; it's very close and even mirrors some of what I've done int he past, but Mary Jo seems to fill in the holes I've missed.
One of the biggest holes I've missed? Sitting down more often to do the planning, and more importantly to evaluate how far I've come (or not!) on those goals. She breaks the big dream down into three bite-sized chunks; I've done a big picture and I've done a dozen little pieces of life that ends up with too many goals to even think about let alone do, but 3 areas of life is completely manageable. That's been part of my problem; I over plan for what is realistically going to get done, not because I over estimate myself but simply because there is a LOT I want to get done!!
One thing that Mary Jo points out that I did, almost, just once, but not in nearly this sort of detail, is keeping track of how we already spend our time. I think that's a big one. If you start from where you already are and make specific changes and change habits one at a time, you are more likely to have success with all of your goals.
My husband and I are sitting down this weekend to get started on those "big dream" goals and plan through the end of the year. We will probably just have a conversation about it and I will get back on task with our weekly plan. (I"ve been doing a weekly plan since I started working outside the home, but it's gone by the wayside in our move. Time to pick it up again!) Then he and I will do some major planning on our anniversary weekend coming up, and we will take Mary Jo's advice and do it every year between Christmas and New Year's. Now that's a tradition that I really need and – strange as it sounds – will really enjoy!

Please do check out Mary Jo Tate's newest book,
Flourish: Balance for Homeschool Moms
and don't forget to check out the other Crew Reviews! You can connect with Mary Jo Tate and with other homeschool Moms who want to
Flourish
on
Facebook
and
Twitter
. You can purchase it directly from Apologia on their website for $15.