We had the pleasure of receiving a movie from FishFlix.com for the purpose of review, and were blessed with our viewing of the movie Do You Believe? We watched the movie as a family, and it was fun to see my husband excited about this review! He'd heard about it on our favorite national Christian music station, so he's thrilled to help me tell you about it.
The basic premise of the movie follows the lives of 12 individuals all dealing with real-life situations. The situations are believable, and are things that we in the real world actually deal with. Christian or not, people have hardships and situations in life that may or may not be obvious to those around us, and this movie does a great job of showing how hurting people are behind the scenes. Everyone has a story! The stories of these people are – eventually – all strung together, however loosely.
There's an EMT who prays with a dying man at the scene, and then is sued by the deceased man's wife because of his faith. There's an elderly couple who had a child but lost her many years ago, and they've grieved that loss ever since. A homeless mom and daughter end up in the emergency room and locked out of the shelter for the night, and are surprised by the kindness of another ER visitor. Brothers deep in the gangster lifestyle follow different paths because of the simple plea of the crazy man dragging a life-sized cross down the street.
A pastor does what he can to help, but he and his wife secretly mourn the inability to have natural children. A marine deals with post-traumatic stress disorder and is convinced that he's too dangerous to be around people. A young woman has been abandoned by her father and every other man in her life. All of these people are woven together beautifully by the end of the movie.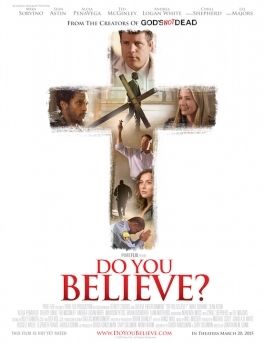 To be certain, there are scenes in this movie that might provoke the emotions of sensitive or young children. There's a major car accident, and a pregnant woman dies. A violent robbery takes place (more than one, actually), and later a man is shot to death. A couple of the subjects in the movie are on the verge of suicide; that's not direct, but a pre-teen would likely understand the thoughts going through the minds of those who stand on the edge of the bridge and look down.
My older kids -11 years and up- had no problems with the movie. Personally, I teared up in a spot or two. My young twins were disinterested enough that they weren't in the room, but my daughter is sensitive so if she were 7-9 I may be cautious about letting her watch it.
That said, this was a wonderful family experience and sparked great conversation in our home about sharing our faith with others. We spoke of stepping out in faith to do the right thing, about standing up for what we believe no matter the consequence, of praying the outrageous prayers because we know that God always wants LIFE, and so many more. This will be a great one to have on our shelves and to share with our church family.
We all highly recommend Do You Believe? for every Christian (and your unbelieving friends, too)! Visit FishFlix.com at Facebook, Twitter, Pinterest, Google, and YouTube. Don't forget to visit the other Crew reviews as well!