While we are super active at church and are always discussing the things of the Lord in front of and with our children, even running a home fellowship group twice monthly, we have not had a specific method of studying Bible in our homeschool for quite a time now. I was excited by the opportunity to review a 10 week study by Real Life Press! We received both the Family Study Guide and the Student Book for the Firmly Planted, Gospels, Part 1.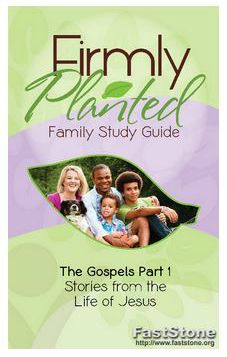 We've enjoyed turning this study into a full unit! It's very flexible and it can be done in a fashion where it's a few minutes spent daily or you can turn it into an adventure where almost all of your school subjects can be incorporated. There's no schedule, but there are plenty of worksheets in the Student Book to fill out the week's worth of work – or skip some if your kids don't like worksheets!
The Family Study Guide starts with the story from the Bible. It's printed right in the book, using the ESV translation. You can easily grab your own translation and read it directly from your Bible if you'd prefer. Then it breaks down the main idea, gives a memory verse – one version for younger kids and one for older students and adults, and then a story or life example to help understand the concept behind the Bible story. It's a considerable amount of reading for one sitting, but I let the kids color their coloring page while they listen and we haven't had a problem.

The guide then has days 1 through 4 listed out for some short and sweet devotionals. I was glad to find only 4 days listed, as I felt the Bible study and story with explanation was plenty of sitting and listening for one day! As we've made our way through the study, we found the best approach for us is to read the scripture and discuss the story on Monday evening after Dad gets home. The littles can do coloring pages while they listen. Tuesday we do some worksheets during the day, and save the Day 1 study for that evening again. You could also do it first thing in the morning and then do the worksheets during the day. I love how flexible it is, but at first I wished there was some sort of schedule. Even a few suggested schedules included might have been (and still might be) helpful.
The worksheets – about two dozen per lesson – run the gamut of relevent, busy/fun work, coloring pages, notebooking and journaling pages, geared towards younger or older students, just… everything! The website gives some great sample views; the printed product I received wasn't in color, which is fine with us. It does allow you to make copies within your own family; I really appreciate companies that allow that in their copyrights! Some of the sheets included:

vocabulary
nature study
comprehension questions (just a few)
journal entry page
memory verse copywork page
writing assignment
maze
coloring page
drawing assignment
younger kids' crossword
older kids' crossword
younger kids' word find
older kids' word find
engagement activity*
responding to God's Word*
theology study*
mapping assignment
Upper Classmen worksheets
As you can see, there's a great mix of sheets for younger kids and sheets for older students as well. I had my high school student helping the preschool twins, so between their activities he was able to complete the Upper Class worksheets. The pages I starred above are what I'd consider the actual meat of the sheets; the word finds, crosswords, and mazes are mostly busy work and don't add much to the lessons, but they are fun to include if your kids like them and you have time to do so.
If you're interested in making this study a full unit for your homeschool, the best place to start looking to do that is in the Nature Study page. At first I was disappointed by this page, as there's not really a lot of actual nature study there. There's a bit of information about a topic or two, such as the gestation differences in mammals or the cleanliness of pigs, but it's just information and no guidance for a study or activities of any sort. But after looking more closely, I found that it works great if you use it as a tool to suggest where you might delve in deeper with study. In Lesson 5, for example, here are the inspirations for further study that I found:
"In this passage, one of the animals noted is the dove. A type of pigeon, the dove is a gentle, peaceful bird. ANIMAL STUDY OF DOVES, PIGEONS, OTHER BIRDS
"Can you think of a time recently in our studies where a dove was mentioned?" "Doves are mentioned many other times in the Bible." "As you continue… watch for the use of doves in the verses and try to recognize when they signify or symbolize something important." "A family member can inquire of the Lord why there is a dove mentioned in this passage." CROSS REFERENCE BIBLE STUDY, STUDY OF DOVE SYMBOLISM, FAMILY PRAYER FOCUS
"[God] gave the Hebrews a way to remember that event with an annual Passover celebration." HOLIDAY STUDY ABOUT THE FEAST OF PASSOVER
"Can you remember when these events took place? Yes, it was in the spring!" STUDY ABOUT SEASONS, STUDY ABOUT THE SEASON OF SPRING
"As the time for Passover draws near, you see Jesus spring cleaning His own Father's house to ready it for the celebration! Is your house ready?" CLEANING THE HOUSE SPRING CLEANING ACTIVITY (Well, okay. Maybe that's just me looking for a new way to get the kids to help clean and get some deeper cleaning done! Whatever works, right?)
The worksheets aren't the only work available, as the Digging Deeper and like sections in the Family Study Guide provide enough study fodder for the high school and adult students in your family group to work on for the day or the week.
We broke our lessons down into 5 days, doing the Bible story on the first day and then days 1 through 4 in the guide on the days following that. We did a few worksheets each day; there are over 2 dozen for each lesson, but not every sheet is geared for every student, so doing a fun sheet plus a thinking sheet each day is reasonable. Breaking up the Nature study and doing an activity each day is also reasonable. Or, folks, just do the study together and spend about 15 minutes in God's Word as a family. It's up to you!
The Study Guide costs $9.95 on the website, and the Student Book is $24.95 complete with copy permissions within your own family. They come already pre-punched for a 3 ring notebook, and I fit both sets within one 1.5″ binder. I think the Student Book is a great option if you have younger kids, and it really helped my middle kids (upper elementary and middle school) to have the sheets to do. If you're doing it just for yourself or with mostly older students, you can skip the workbook. You can find Real Life Press on Facebook, Twitter, and Pinterest. Don't forget to check out the other Crew reviews!