As our family dynamics have changed over the years because of having more kids, kids just aging, or even moving homes, we have had to tweak our chore system. I was happy to review The Everyday Family Chore System from Everyday Homemaking because once again, our season of life demands that we tweak our approach to keeping the house clean.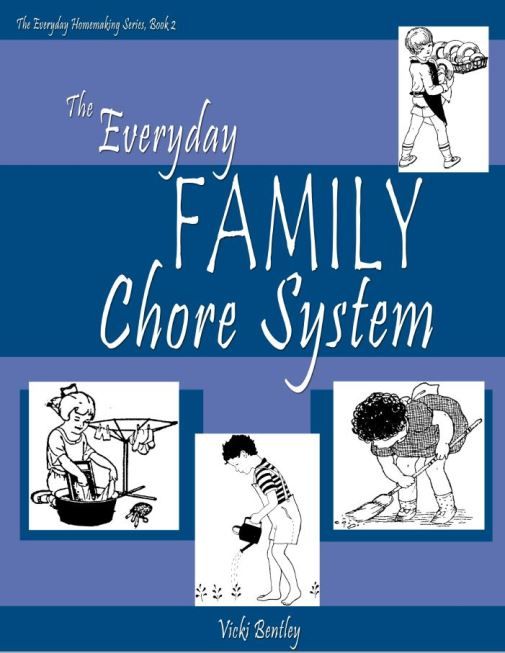 Chore System
I've been a mom for 18 years, and for about the last 7 of those years I've gotten my act together in the home keeping department. I've developed a system that worked for us in each place where we lived at the time, and I've done okay for the most part. Nowhere near perfect or even to my husband's standards all the time (HA!), but close enough to clean that I can fake presentable on a moment's notice. That's important, ya know….
So I'm reluctant to spend money on anyone else's idea of a chore chart. I've been there, done that, all you dear sweet moms with small kids. But now we live in a bigger house than we've ever had and our old system is starting to fall apart and I needed someone to help me tweak what I know works. This was on my mind when The Everyday Family Chore System became available for review. I jumped right on it!
The book itself is easy to read, very personable, from a mom whose life looks a lot like mine. She explains that it's about service to the family, and is sincere about not wanting to interfere in anyone's life. She talks about how it matters first that the relationship with your children should be in place, and about God's order in families and responsibility. I love that she starts with these things, and I also love that it's short, sweet, and to the point so that she moves on to the meat I came for. Perfect!
The next few pages are a life skills list, things that kids should learn how to do. She lists them by when to start teaching this skill, and indicates when they should have that skill mastered. I've never seen a complete list like this so handy and really appreciated it! I let my kids mark which chores they are positive that they have mastered; and then I made them prove it to me that following week. This really helped in setting up the next portion of the chore system.
Listing of the things which need to be done and dividing them out among all in the household who are able to complete them is the crux of any chore system. The author, Vicki Bentley, uses several ideas, examples, and illustrations with the purpose of setting off an idea in your mind that will work for your family. This is exactly what it did for me!
The chore system we've been using has everyone switching chores every day, so that no one has all the dishes all the time, etc. It cut down on complaining when I made the list. Vicki's system suggests keeping the same chores for a whole month – for the purpose of training your kids in each chore to the point of mastery. (I forgot to pay attention to which side the pins would go on, so half are upside down! Oops! My fault….) I love that the idea of training the kids in the chores is built into the system! That's part of what I needed. We didn't do the whole month take, but instead opted to rotate chores every week. Because we each have two daily chores and the chart is only moved down one space each week, it actually works out where we do each chore for two weeks in a row. Because my big kids are mostly already trained in the chores – and for what they aren't, they don't need a lot of instruction to get there – this works better for us.
Part of what I needed was a way to remind everyone about the chore they are supposed to do. I mixed two ideas from the chore system book and did both a clothespin wall chart AND had my kids pin the clothespins to their shirt each morning. They put the pin back when the chore is completed each day. Mom – me – is also on the chart and personally it really helps to remind me that these things need to be done and need to be done by me. I train my youngest two in whatever my chores are, and the youngest two also have their own chore rotation of the easier chores (set the table, feed the pets, etc). I also used this idea to work on a school day chart in addition to the chores; my kids are bigger and don't always stay on task, so I'm looking forward to using the apples in conjunction with the chore chart! Each apple is a school subject. On the left it says "to do" and on the right it says "done." The clothespins will have the kids' names or initials on them for them to move when they complete each subject.

A big part of where I needed help was the chores that never get done because we are focused on daily chores. Vicki's chore system has you do two rotations – one for daily chores, and one for weekly chores. You can set aside a day for doing the weekly chores, which is usually Saturday in our home. Instead, though, for this review period I told the kids that since it's a "weekly" chore that they are free to do it any time during the week. That way, if it gets to be Saturday and they've already done their weekly chores, all they have is their daily chore and they are free to play! It's worked out pretty well for us, and the deeper cleaning things are getting done.
The book was short and easy to read, and contained just the nuggets of helpful tips I needed to tweak our own system and find a new perfect groove. This book covered the basics, but quickly so I wasn't bored, and I think it would be useful for any mom no matter where they are in their home making journey or how old their kids are. There are quite a few ideas in the book, and the point is that each individual mom can find what works for her family with the tips provided. It's  not a one-size-fits-all program, which is exactly what I love about it. I will be recommending this to everyone I know! And, likely, re-reading it periodically to keep myself on my toes.
You can find Vicki Bentley and Everyday Homemaking on Facebook. Don't forget to check out the other Crew reviews, some of whom reviewed the chore system but others reviewed the cook book!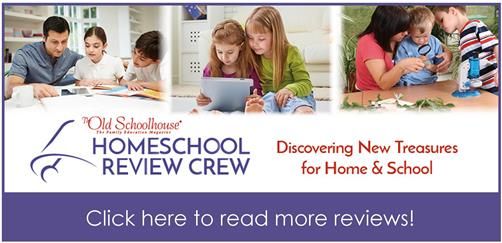 Save
Save