Because I'm a collector of all types of phonics programs, and while I still have young enough kids at home who can use them, I'm excited to bring you this review of Eclectic Foundations Language Arts Level A! We have used this program with my baby girl, who, while she has studied letters and sounds and has done okay, just seems to be moving slower and was needing a review-paced program to solidify her knowledge and help her build confidence. Eclectic Foundations has exactly what we are looking for, and I'm sure that we will come back to it in the future for her continued language arts education!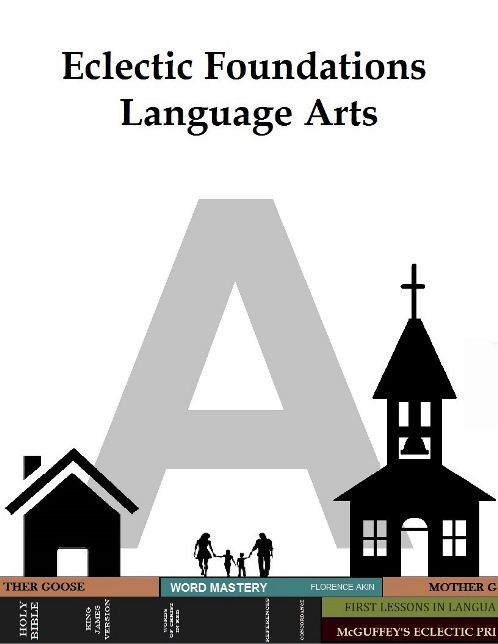 Short Lessons
The main thing we love about the Eclectic Foundations Language Arts Level A program is that it has short lessons. This is great for a new learner, at the scheduled pace of 4 lessons per week, which allows for play dates or co-ops or other such activities on the other day. The short but intense study is a great opportunity for "mommy time" where we site together and I guide her through the activities as she needs.
Because my own student is a little older and mostly needing to review and fill in holes she may have in her letter and phonics knowledge, we almost always have been completing more than one lesson in a day. Many times, we will do three lessons in a day and save the last lesson of a letter for the following day. The first day's lesson is to recognize the letter and shape it out of dough; we've been using string instead. On Day 2, the student circles the lower case and capital letters contained within a typed=out passage. Those two lessons are super easy to incorporate together.
The second part of the second lesson is to have the student sound out and begin blending letters into words. This is one of my favorite parts of the entire program, and one of the only programs I have ever seen that gives you a tool to help them hear and recognize HOW to blend letters into words. It's the missing piece we needed for her!
The third lesson in the week has the student complete a maze, connecting all of the letters from the single lesson together until they reach the end. Usually we stop there, and savet he last two pages for the last day. This is the actual handwriting page – which has some capital practice, some lower case, and a single small word at the bottom – it's just enough practice without being overwhelming to our developing motor skills. The last page is a matching game.
Each lesson has a hearing activity for the student to do, contained in the teacher guide. It also has a Mother Goose nursery rhyme to read. The Mother Goose reading doesn't really have anything to do with the lesson; it's just about exposure where they may not get it otherwise. I usually read the poem while my student is doing her handwriting. Sometimes I'll have her repeat it back to me or "read" it with me, because she's enjoying it and I feel like if I don't engage her with the poem it will just go in one ear and out the other. While I kind of like that this part is there… it feels sort of disjointed from the program and I'm not really sure what to do with it.
The Program Progresses
This is just Level A so, while the program progresses slowly, it does progress. I've currently misplaced my teacher guide, which is frustrating. I may purchase digital versions in the future; I didn't this time because our printer is broken but I feel like with  more than one student that the digital version to print may function better for a large family like ours. The student workbook is copyable within a family anyway! That's always a plus in a homeschooling publisher.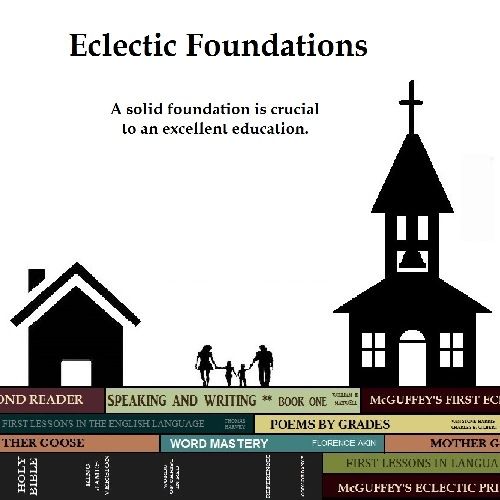 There are word cards with this program, but they don't start until Lesson 65. The idea is that each part of speech is colored/traced with a different color, and I feel like it's the foundation in grammar that my middle two students didn't get. I can't wait to see if Eclectic Foundations comes out with some middle school level programs any time soon! The word cards come on 8.5×11 cardstock for you to cut out yourself, and that works just great for us.
Once the student has learned enough words, this program begins to include the McGuffey's Eclectic Primer. As I said, I've misplaced my teacher's guide (to an unbelievable amount of frustration this week, trust me!), so I'm not sure what lesson begins to utilize the Primer. I do know that it's a separate piece of the program; the phonics study doesn't necessarily line up, but your student is getting reading practice and that is the point.
This is one of the better programs I've seen out there, at probably THE best cost I've seen, ever. The pace is perfect, one level builds upon another. The short lessons and proven approaches and tools of history are a fantastic spine, and the worksheets included are actually pertinent to the learning of the child rather than just creating busy work. Level A is for about the kindergarten level, but I might suggest at least previous exposure to the letters and their sounds as this program will take them immediately into sounding out words and blending sounds. I love that it takes the full week to incorporate that,a s a few other programs I've seen only introduce the letter one day and then expect your child to be able to read using it, and this course isn't like that at all. The pace is PERFECT.
Thank you, Eclectic Foundations!! You can connect with them on Facebook, and don't forget to check out the other Crew reviews! Everyone was able to review their own needed level.