It's no secret on this blog that having to teach my kids science is the bane of my homeschooling existence, but once again thanks to the wonderful Review Crew, we've had the opportunity to review an amazing supplemental resource! Let me have the pleasure of introducing to you Ann McCallum Books and the wonderful "Eat Your Homework" book series! We received Eat Your Science Homework and have been having a blast for the last few weeks trying out all the goodies!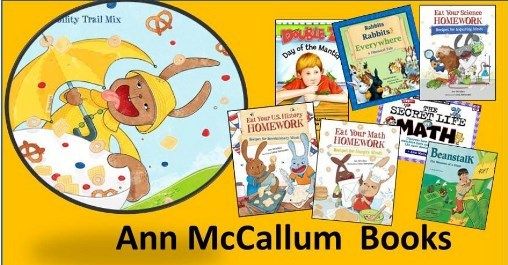 Eat Your Homework
The way the book is laid out is simple. There are about a half dozen recipes and science lessons, plus the introduction section which discusses Kitchen Safety and the Scientific Method. I really appreciated that, and I think my kids now have a firm grasp of what the Scientific Method is; I made a big point to talk about the individual steps as we completed them for every lesson, and by this last week they were being able to tell me instead!
Each lesson starts with information about the science. It's a couple of short paragraphs to introduce the topic at hand, and intrigue the kids so that they're willing to pay attention and see the example of an experiment – an experiment that they get to eat afterwards!
The recipes included in Eat Your Science Homework are:
Atomic Popcorn Balls – learn about atoms with a caramel popcorn experiment!
Density Dressing – discover liquid density and a great veggie dip!
Invisible Ink Snack Pockets – Yummy pizza pocket snacks with secret messages!
Loop, Whorl, and Arch Cookies – Treat your inner forensic scientist to a sweet treat!
Sedimentary Pizza Lasagna – The rock process never tasted so good!
Black Hole Swallow-Ups – Astronomy muffins for breakfast!
The experiments themselves are very informative and easy to implement. The guide  says that they are "easy to medium" and I mostly agree with that; I do think that the adult helping should have at least a working knowledge of the kitchen. I became a little frustrated myself with rolling out dough (I married a baker – I'm NOT cut out to be one!!) and some small things that my kids wouldn't have known to do if they were following the directions alone. This is definitely geared to do with the kids, and not something to have them do alone.
That said, I love how precise the recipe page is. I'm informed when I need to preheat the oven both on the ingredient page AND in the first instruction. I'm given a list of ingredients with their amounts (of course) but also a list of equipment I'll need, such as a large mixing bowl, a hand mixer, a cookie sheet, etc. Seldom do you find this information in recipes and I appreciated the ability to have the kids help me get out everything we would need so that our lesson wouldn't be interrupted.
I do have a teenager who cooks fairly regularly, and even with him there would've been a few things (flour on the table and on the rolling pin, for example) that he wouldn't have known. The material was way below his level, but he really enjoyed tagging along with his siblings on the experiments. He says he'd do this book on his own even if there were no younger kids around. "It's food, Mom! Duh!!" he says.
The middle boys – ages 11 and 12 – were probably the perfect age for this, at the high end of the spectrum. The twins did great with it too, though I'm not sure how much of the science they retained. It's been fun for all of us to get together, do a little fun learning, and have a snack afterwards!
After the recipe has been made and either while you're waiting on it to cook, while you're eating it, or afterwards – there is also a follow-up science page where you can do some non-edible experimentation and more information to help the kids understand and retain the actual educational portion of the lesson. I love that this is there; otherwise, it's easy to breeze past the first two paragraphs in anticipation and then eat and forget. The follow-up experiments proved invaluable for us, and once we even waited to do the follow-up on a separate day during the week. Love it!
The back of the book has a "science review" section that would work fantastically as copywork, and there is also a glossary. I think it would be easy to do a lapbook with your own pictures from each lesson, and of course it would be very easy to turn these into a full science unit each week! We'll definitely be following through to obtain the other books in this series – so far, that includes a US History book and a Math book. My teenager approves.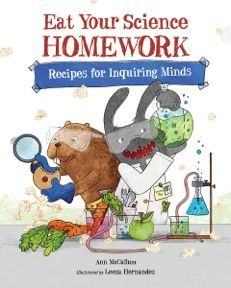 Eat Your Science Homework is available for $16.95 in paperback, and is well worth the price for a 6 week study that you'll find yourself returning to again and again, just for the recipes! It will be easy to bring these up for review down the road, because kids will ask to eat the snacks again! (Although, I must say, we found it amusing after reading the scrumptious description in the Scientific Method section and then my kids really weren't that fond of the Density Dressing. HA! They just aren't vinegar dressing fans, but I enjoyed it very much!)
Don't forget to check out the other Crew Reviews, and the other books outside of this series from Ann McCallum!