One of my favorite things about homeschooling has been the ability to teach (and learn) Biblical history alongside world history. Drive Thru History® is a DVD series that I had heard great things about previously, so I was thrilled to be part of this review for their new Drive Thru History® – "The Gospels" set! All three of my older students – two middle school students and one high school student – have been watching this as their weekly Bible studies, and we've all enjoyed the show and the discussions it's inspired through watching and the included study guide.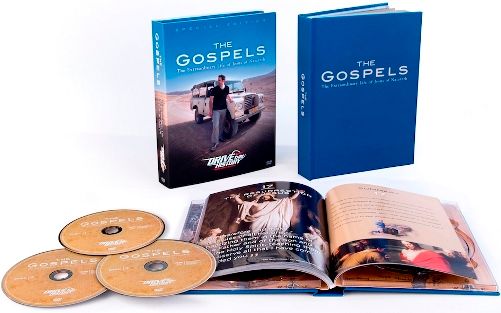 Drive Thru History
The Drive Thru History® series is one I'd heard about, and heard it was amazing, but I'd never taken the time nor had much opportunity to look at it for myself. We were sent the full set for the new "The Gospels" set which includes 3 DVD's with a total of 18 lessons (about 9 hours in total length) and the study guide book. The study guide book is part of the case and is about a half inch thick. It includes a summary, a verse, 5 discussion questions, scripture reading assignments, and more. The DVD episodes, hosted by Dave Stotts, are each just under a half hour in length viewing time.
The style of the episodes reminds me of other documentaries I've seen. Dave Stotts is engaging, and takes us through the sites as they are today, and points out historical artifacts as well as historic and current cultural climate. I love his style of weaving in current topics and events to the history lesson! In one episode, focused on the birth of Jesus, he talks about how the birth of son of Princess Kate Middleton was lauded world-wide. What a perfect example – and contrast, as he points out – of how we see the birth of a future king.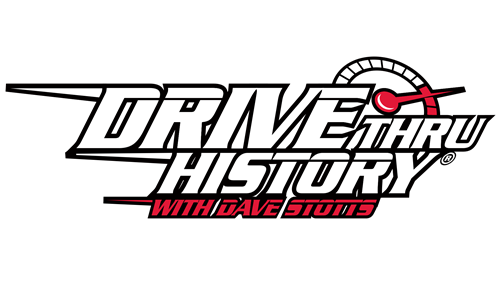 Bible Study
My kids thought we were using this as a history curriculum – and we totally could, but since we have other things we are studying in history right now, my intention was to use it as a Bible study. It's been sufficient to view one episode per week and then utilize the included study guide. My kids have generally been watching the week's episode by themselves, and then taking the 5 discussion questions and discussing them amongst themselves.
Then, later in the week, I'll ask them what they learned before I view the video myself and discuss those same questions. I've enjoyed the opportunity to share some of my own knowledge, brought to light by something Dave Stotts said in the video. He's plenty in-depth; for instance, I appreciated his explanation of the location where Jesus was born. He did go ahead and refer to it as a "cave," but he explained that it's really the basement of the house where the animals are kept and went into the meaning of the actual word used in scripture. Then, he also included information about the Church of the Nativity and the claims that Jesus was born there. He didn't speculate as to if that was true or not, but gave information as to how long ago that was documented to be the claim.

Though our host does refer to outside sources, the main text referred to is scripture. In fact, at the end of every episode there is a disclaimer that says that while this is all good knowledge to have there is truly no replacement for reading the gospels for yourself. Each episode gives scriptural references for you to do just that, and these are also included in the study guide. I appreciate the encouragement to study these things out for ourselves!
On a third day each week, I have my kids do exactly that – go and read through the scriptures "assigned" in the study guide. I ask them to pick one scripture to memorize from the passages they read, and we pick a night at dinner to discuss all of these things when Dad is home. It always inspires more discussion than assigned, more questions than are asked in the study guide, and more interest in the spiritual truths than we might have sparked without watching. You could totally get away with just watching the DVD's and maybe skimming through the discussion questions, but a world of so much more opens up to concentrate on it as a week's worth of study material.

I believe that any Christian would benefit from watching these lessons, and in fact I'm going to see about the possibility of us viewing them at church once we finish our current study series. While much of what I saw is pretty basic, the entire series is a wealth of small nuggets of information to enrich the understanding of our children, new Christians, or even more mature Christians looking for more intimacy with Christ. What a wonderful way to create that!
We'll definitely be continuing this study, and we'll be looking into more from Drive Thru History® in other subject areas in the future. Anything that keeps my teenagers excited about God and engaged in their studies – especially Bible studies – gets an A+ from me! I also discovered that some of the other sets are available through SchoolhouseTeachers, so you'll want to check that out as well.
Connect with Drive Thru History® (and Cold Water Media) on Facebook, Instagram, and YouTube. Don't forget to check out the other Crew reviews!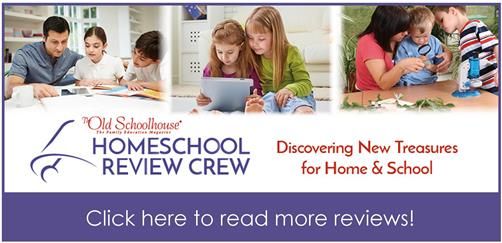 Save