Maybe it's all middle school kids, but my 8th grader wants to go into video game design as a career. Because we felt like he needs the foundation of basic computer skills and knowledge, we were excited to have the opportunity to review the Digital Savvy  course from CompuScholar, Inc. (This is the same company which used to be Homeschool Programming!) While my son knows how to use a computer and get on the internet, he really doesn't have any formal education regarding computers so we felt like this course was a great place to start.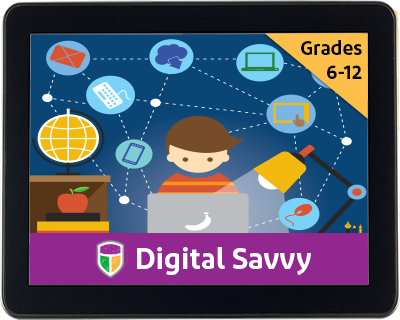 Computer Science
Because my son wants to go into a computers-based career field, I really wanted him to have a good foundation. The first few chapters of the Digital Savvy course seem like common knowledge for kids these days, but my 13 year old son says that even in those chapters he learned a few things. Vocabulary was a major thing for him; for instance, even though he knows what things are software and hardware, he didn't know those terms and wouldn't have understood them being used in a higher level course.
I really like that the CompuScholar offers an outline for how long the chapters should take. While it's not a full lesson plan, it does give guides for how many days every chapter will take and what the projects are for each chapter. You can access that information, including the names of every single lesson, even before paying for the course. This has really kept us on track and handing it to my son to check off when he's completed each chapter has been of benefit to us!
Because of the recommended pace of the course, I do feel like this is a legitimate computer science course. It's listed as being geared for grades 6 through 12. I think if you do it on schedule it would definitely qualify as a high school credit, and that it would also be totally appropriate to slow it down a bit and take a year to complete each semester in middle school. My son has been clicking along at a pace somewhere between those two speeds, and likely I will still award him the high school credit for it. I expect that he'll complete the course before our break close to the holidays.
The videos are well designed and last about 5-10 minutes each. The readable text is also an option if your student learns better that way. It's not an exact transcript, but my son hasn't really found much difference in it or benefit to doing both… at least not so far. He watches the video, then reads the text (I've been making him during this review period), and then the 5-question quiz for every lesson. All of those things take him a half hour or less to complete.
The number of lessons in a chapter varies, but at the end of the chapter is an activity and then a chapter test of 20 questions. The kids can submit their activity so that the parent can look at it and assign a grade if they wish. These grades aren't recorded, but the system keeps track of all of the quiz grades. It averages those together for a course grade, so at this point he's making an 82% and he still has much to go!

I really think he'll get more out of the second semester, but wanted him to have the foundation that the first semester provides. It does look like we could skip ahead and do the second semester if we wanted to. We could also repeat lesson videos and there is a button so that he can retake a quiz if he needs or wants to do so. We haven't done that, so I'm not sure how or if it would affect his grade.
My son says that he's enjoying this course. I'm a little surprised, as I was concerned that it would start out too simple for him, but he says that the instructor is obviously talking to kids right about his age and he's interested in the subject so it keeps him engaged. I feel like this course is similar to the "microcomputer applications" courses I took in middle school and high school, which taught me to use basic programs like word processors, spreadsheets, databases, and the internet. I'm glad my son is having the opportunity to take a course like that and to get a jump start on a very computers-based high school science course!
Connect on social media! Homeschool Programming is on Facebook and Twitter, and CompuScholar is also on Facebook and Twitter. Don't forget to visit the other Crew reviews – not everyone received access to the same course! Besides Digital Savvy, the Crew also reviewed a Web Design program and a Java course!