I've always placed a significant meaning on names, because I believe that names are important to the Lord. Having the opportunity to review CrossTimber – a Christian company, featuring their Personalized Framed Plaque with Name Meaning and Bible Verse – has been a huge blessing to us and I can't wait to share with you all of the awesome experiences and fun I've had while working with this company! If you are looking for a meaningful gift this Christmas, you have to take a look at these wonderful personalized plaques and gifts.
Name Meanings
When I was pregnant with my oldest son, I agonized over what to name him. I researched the meanings of every name in the Bible, and still couldn't come up with something that I really felt fit for what I felt the Lord telling me about this child. I wanted this child to be raised by Christian parents, in a Christian home, who taught both by instructed lesson and by example. About the 4-millionth time I said that out loud, it finally hit me what his name should be – CHRISTIAN!
I also know that the Lord speaks through names. We see all through the Bible where the Lord names a child for a certain calling on his life, or where He changed a person's name as they changed seasons of life and began fulfilling God's purpose for them. Abram to Abraham, Jacob to Israel, and Saul to Paul are just a few of the many examples we see in the Word to show us that God cares about names and about what those names mean.
Isn't it beautiful? I opted to receive for the purpose of review an 8×10 print without frame. (Don't think my graphics above indicate a frame – it's just the print laying on a white background with digital photo corners to help it stick out some.) I did it that way instead of the 5×7 print with a 7×9 frame because I wanted to get the larger size of our family's last name. My plan is to order everyone's first names in the 5×7 size when we get closer to Christmas,and then we can make a wall collage with all the first names surrounding our last name! I'll give the last name print and mine and hubby's first name prints to him as his gift, then each of the kids will get their own name and probably also a book mark or wallet card as well.
It was an amazing experience to email John at CrossTimber and discuss with him the derivations and meanings of each name, and to see the verses that they picked out for us. In case you can't read the graphic above (I know that verse is especially blurry), here's what our plaque reads:
McCoy
Son of the Wind, Son of the Fire:
Led by the Spirit of God
And I will bring the third part through the fire, and will refine them as silver is refined, and will try them as gold is tried: they shall call on my name, and I will hear them: I will say, It is my people: and they shall say, Yahweh is my God.
Zechariah 13:9
This is so meaningful to us as a family! Looking at the Word, the Fire is often referred to when talking about trials in our lives. Our family has been through much fire, for certain, but we have come out on this, the other side and are victorious! It is because we are Led by the Spirit of God, and that is a new season for the McCoys – not only our immediate family, but signifies to us the beginning of a family-wide deliverance of my husband's extended family. It's victory in the truest sense of the word, brought about by His Spirit, and I LOVE that this speaks so truly to our situation. Isn't the verse perfect to go along with that?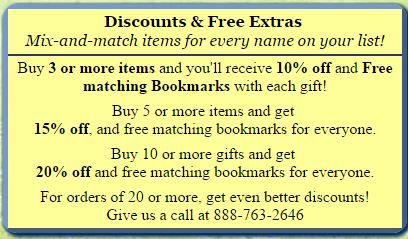 When I emailed John to ask about names, he was more than willing to share more than one meaning with us. In fact, he had no hesitation to share with me every name I asked him and invited me to share those meanings with you. Part of that generous spirit of this company is simply because they realize how important it is to people to find true meaning in their names.
There are many people – like me, personally – with unique names that have a truly difficult (if not impossible) time trying to find their names not only on any products but also on any name-meaning websites or books. (Yes, I've been checking for that long.) I want to reassure you that these name meanings are truly personalized, unlike anything else I've ever seen. Let me share with you the information John shared with me about each of our names.
| | | | | | |
| --- | --- | --- | --- | --- | --- |
| DaLynn | Old German | Noble, One of Integrity: | Peace through Following God's Guidance | Psalm 119:73 | Thy hands have made me and fashioned me: give me understanding, that I may learn thy commandments. |
You know what's awesome about this? I believe that this is how HEAVEN sees me. This is what God believes about me. God believes that I am One of Integrity, and that is how I am known in Heaven! He calls me Noble! The next part about Peace is His promise to me… and now, writing this review, I'm bawling. I cannot explain to you the ways that the Lord has spoken to me about ME, has spoken to me about my CHILDREN, and about my FAMILY through this review – ways that I never would have imagined. I almost didn't ask for this review, y'all!!! The verse has been the cry of my heart for many years now, but I was not familiar with that particular scripture. Wow.
| | | | | | |
| --- | --- | --- | --- | --- | --- |
| Christian | Greek | Follower of Christ: | He who Worships in Spirit and in Truth | John 4:24 | God is a Spirit: and they that worship him must worship Him in spirit and in truth. The Father seeketh such to worship Him. |
| Joel | Hebrew | Yahweh is God: | One who is God's Messenger | Matthew 28:18-20 | Therefore go and make disciples of all nations, baptizing them in the name of the Father and of the Son and of the Holy Spirit, and teaching them to obey everything I have commanded you. |
This is my oldest son, that I spoke of at the beginning of this post. I asked for both his first and middle names, because so often that first name is a "pat" answer. This is not as "pat" of an answer as I normally see, and I'm thrilled! John complimented my choice in my son's name combination, and the meanings here for Joel is one I hadn't seen or even crossed my mind during that naming process. (I named him Joel as a reminder to me of God's promise to repay me for the years the locust had stolen. I was a single mom at the time.) How fitting is this, knowing my story I shared above about my search for a name for this child!?

| | | | | | |
| --- | --- | --- | --- | --- | --- |
| Drew | Greek | Brave: | One who Endures | Psalm 27:1 | The LORD is my light and my salvation; whom shall I fear? the LORD is the strength of my life; of whom shall I be afraid? …my heart shall not fear: in this will I be confident. |
My husband named this child; his name is actually William Drew, but he goes by Drew. I looked that name up years ago and have always seen great significance in the meaning I found – "warrior." He's heard that all his life, but his face lit up when I let him read this meaning and verse. He likes "brave" and felt like this spoke to him. And in it, I'm learning about my own son.
| | | | | | |
| --- | --- | --- | --- | --- | --- |
| Brandon | Old English | Sword, From the Flaming Hill: | One who is Fervent and Enthusiastic | Isaiah 40:31 | Even the youths shall faint and be weary…But they that wait upon the LORD shall renew their strength… |
Another child named by my husband. (HA!) He's grown up thinking his name meant "broom hill" and was not excited to come read about a name "thingy"… until he saw it. I'd love to end up with a SHIRT with this on it for him. In the meantime, this child is the biggest reason I've decided to go ahead and get the bookmarks/wallet cards in addition to the 5×7 print for the wall. I want my kids to be able to carry these around with them and think, just as I did, that "this is how heaven sees me!" Something else that's interesting – says the Lord to me, in this moment – THIS is the year (5777 in the Hebrew calendar) of the Sword.
| | | | | | |
| --- | --- | --- | --- | --- | --- |
| Caleb | Hebrew | Fearless, Bold, Loyalty: | Courage Grounded in Diligent Faith | Psalm 27:1 | The LORD is my light and my salvation; whom shall I fear? the LORD is the strength of my life; of whom shall I be afraid? …my heart shall not fear: in this will I be confident. |
It's interesting to me that the same verse is assigned to both Caleb and Drew. Drew is Greek and Caleb is Hebrew, but they look to be very similar names. You think the Lord might've had His hand in that? (HA!)
| | | | | | |
| --- | --- | --- | --- | --- | --- |
| Lynndi | Old English | Pool Island: | She who is Peaceful, and Brings Peace | 2 Peter 3:14 | Beloved, look for the coming of the day of God, and be diligent, so you will be found by Him in peace, spotless, and blameless. |
My baby girl, also with a unique name. She brought peace to MY heart when she was born, as I'd waited for a daughter my whole life. She was my proof that the Lord gives us the desires of our heart. This speaks to me, and as she grows I hope that it will also speak to her.
Last but not least, the meaning of my husband's name:
| | | | | | |
| --- | --- | --- | --- | --- | --- |
| Bill | Germanic | Helmet, Resolute Protector: | One with a Desire to Protect | Psalm 59:16 | But I will sing of thy power; yea, I will sing aloud of thy mercy in the morning: for thou hast been my defense and refuge in the day of my trouble. |
If I could tell you the journey we've been on, both my husband and myself, as he has learned to become the spiritual head of this family (and I have learned to step out of that position which is rightfully his)…!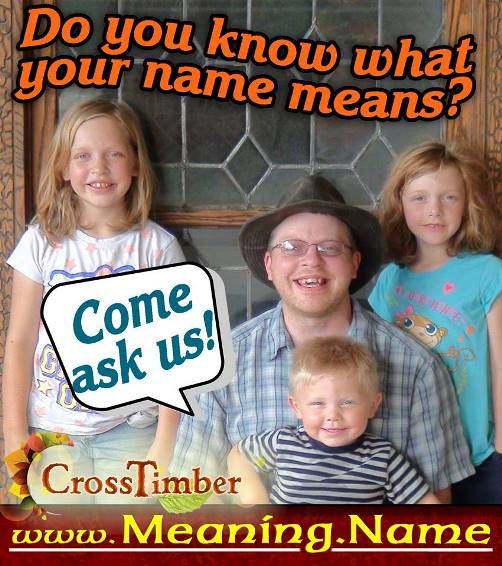 I hope that sharing our name meanings has encouraged you to contact John at CrossTimber and find how they would personalize your name and the names of your loved ones. I'm going to ask for a mug with my information on it for Christmas, probably from my mother (AHEM! Are you reading this, Mom??) and I can't wait to see the faces of my family when I give them their gifts also. There are many more gifts available – do check it out!
Through Dec 4th, CrossTimber are sponsoring a Name Gift Giveaway. 
You can enter the giveaway for a chance to win a free Name Gift or $10 gift certificate!   
Grand Prize: The winner may choose between a: Personalized Mug OR a Name Plaque or 8×10 Plaque!
–> Plus 9 more prizes: $10 Gift Certificates
Giveaway ends on Dec 4th, at this url: www.Meaning.Name/giveaway.html
You can connect with CrossTimber on Facebook and Pinterest. Don't forget to check out the other Crew reviews! Many of them purchased extras on top of their review item, and most of them received a frame with theirs as well. Go see it all! Same Crew, new graphics.