The Critical Thinking Co.™ is one of my favorite vendors (largely because of their generous copyright policy), so when I was offered the chance to review the Language Smarts™ Level E you know I was thrilled to do so! This is for fourth graders, and though that seems a little between my kids, it's actually perfect for my dyslexic 12 year old and pretty close to right for my resistant 13 year old as well. That's why I'm so happy that The Critical Thinking Co. allows copying within a family!
Language Arts
I have an 8th grade student who has always been very resistant to doing his language arts program – no matter what program we've tried. At this point in time, my main approach with him is to allow him to work through lots of literature – both of his choice and of mine, so that he gets great stuff AND he gets interesting stuff – and talking through some concepts. But I recently discovered that he's somehow missed some very basic mechanics, such as what a subject or predicate is. Yes – seriously. I tested him into several language arts curricula and he's testing at about a 5th grade level.
With the Language Smarts™ Level E being a 4th grade book, I thought it would be a great way to see if this is up his alley. He can do a few pages each week, just to keep mama happy and for him to be aware of anything he might run into in the future on tests and such, and still do his mostly literature-based language arts life learning. Well – it's working! He's not resistant to doing 4 or 6 worksheets in a sitting, twice each week. He's getting the answers right, and he can explain to me what he did at the end of the day (usually several hours after doing the actual work). I'm thrilled!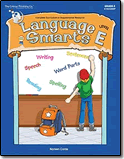 With my slightly younger son, he's 12 years old, and we say that he's in the 6th grade, but most of his language arts skills (including reading alone with comprehension) are a year or two behind that. Because we've had to slow down and figure out where his strengths and weaknesses lie, he's also had a period of time where he hasn't studied much grammar. I was happy to use this book with him, and he will work through it at his own pace. Right now, he's doing 2 (facing) pages in a sitting, twice each week. Two other days during the week he's doing poetry instead, and the fifth day is our co-op classes. For right now, this is the perfect pace for him.
Because I have two kids using this book, I'm making copies for my oldest son and letting the younger go through more slowly using the actual book. That works, because the full color workbook is better for him, and my older son doesn't care as much. This workbook is MUCH thicker than I'd realized! It's almost 400 pages, with the included answer key – over an inch thick, maybe close to two inches. And it's not just grammar. The Language Smarts™ Level E page has an inclusive list, but in general the book includes these sections:
Syllables
Word Parts (prefixes, suffixes, roots)
Word Relationships (synonyms, antonyms, anagrams, analogies, palindromes, etc)
Spelling
Editing (Editor In Chief pages)
Reference Materials (dictionary, online dictionary, thesaurus, online encyclopedia, searching the Internet, nonfiction)
Parts of Speech
Sentences
Punctuation
Using Words Correctly (homophones, misused words, homographs)
Reading and Writing (context clues, similes, metaphors, idioms, proverbs, comprehension, drama, poems, etc.)
Writing (process, personal narrative, opinions, informative, and Writing Detective pages)
For most of this book, I don't see that there's any reason you couldn't skip around and just do the pages you need. Or, for instance, maybe you want to do grammar one or two days each week and then work on writing for one or two days. You could totally use this book that way without feeling like your student needs to start at the beginning and work through in order to the end. I enjoy the Editor In Chief and Writing Detective pages that are inserted throughout, because those allow my student to practice what he's learning. Those books are also available separately from The Critical Thinking Co. if I think my student needed more of that practice, but I love that they are included here so I don't need all three books every year!
Each worksheet thoroughly explains what needs to be done, includes an example, and the answers are in the back of the book. It doesn't need a lesson plan, so we can go at whatever pace is right for us, and of course the copyright is perfect for our family. I think this will be a series that we'll return to for my future students. It's an inclusive and complete language arts program that allows practice but is quick to complete and still lets us focus on a love of reading. It's exactly what we needed!
You can connect with The Critical Thinking Co. on Facebook, Google, and Pinterest. Don't forget to check out the other Crew reviews! Not everyone reviewed the same thing, and they are hoping you'll take a peek at their new "Reading, Writing, and Arithmetic Before Kindergarten!™" individual apps and also the "Reading, Writing, and Arithmetic Before Kindergarten!™" bundle, so check out these links and go see some reviews!