Because we have always homeschooled with an eclectic approach, using a little of this and a little of that, my ears are always open for resources that might help us plug in some of the inevitable holes created by this homeschooling method. I'd heard of
CHSH-Teach.com (The Christian Homeschool Hub) several years ago and am happy to bring you a review of their CHSH Download Club Annual Subscription. The Christian Homeschool Hub is a wealth of eclectic resources including printables, curricula, literature, worksheets, unit studies, lapbooking, notebooking and lots more – for every age!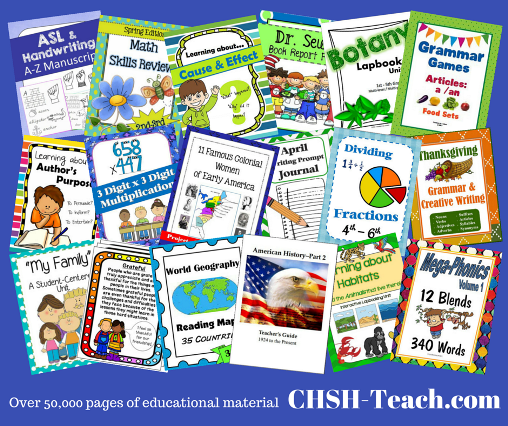 Getting Around at the Hub
Once you have a subscription to the Download Club, you'll go to the menu bar at the top and scroll across the "Download Club" text. There's a drop-down menu there, and you'll want to choose the second option, "Search for Downloads." Scroll down past the graphics, and there's a table where links are organized. First, you'll have choices by subject; if you click on any of these links, they'll take you to a page with a list of resources within that subcategory. If you scroll past that, links are organized by grade, and then by month themes, and there's a category for organization and for miscellaneous items. Anything you click on here will bring you to another page of links, with thumbnails of items in that category. Every click will open a new tab.
When you're on the page with the resources, you can click the title of any specific resource to see more about it. This opens in yet another new tab, and sometimes you'll be able to see a preview of the item before you download it. If you click on the title of that individual resource on this page, it will begin opening the file itself – usually (if not always, from what I've seen) this will be a PDF document. You can choose to click and open it, or right click it, "save as" to your computer, and then you'll have it.
Some files are just readables. Some files are worksheets and printable resources. Some files are in color and some in black and white. Some files, as we discovered, are even in editable PDF format! Some of the literature resources I downloaded and then emailed to my Kindle so accessing them would be easier for my kids.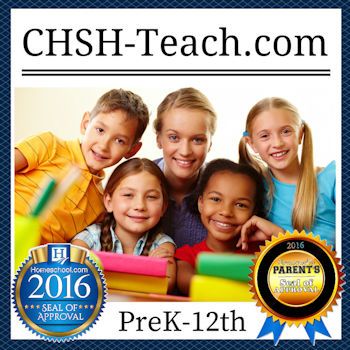 Ages and Stages
One thing I always hope to find in a resource like this one is that it's just one subscription to access everything on the site and that all ages/grades are included. That's definitely the case with the Homeschool Hub! We used several of their items, but there's so much available that it's hard to narrow it down! I do like that even without a subscription, you can go through and see the list and thumbnails of all the resources. A few things are free, and if it's not free you can pretty much do everything except the actual last step of clicking to see it or download it. Go browse for yourself for a while! It's easy to tell if this is a good fit for your family or not even before you pay to subscribe.
We've been using the ABC lapbooks with my little ones. These are not your typical ABC pages on here – in fact, I couldn't find any of the usual pages you see on every printable site out there. These lapbooks are unique, created by the CHSH owner herself, and are tweakable to any curriculum or style you're using. There are very few instructions on these, so I just made up what to do for the most part, but it's giving my kids practice where they need it and in a fun way!
We also have been using the Money unit for little kids. I see a little bit of a hole in the math resources; there's a lot of basic stuff like counting and number introduction, and then I see resources for multiplication, division, fractions, money, etc, but I didn't see a whole lot between the numbers/counting stage and the multiplication stage. I'd like to see more addition and subtraction, place value, basic geometry, and simple graphing resources – like first and second grade work, I feel is missing. But my kids needed the money study and this packet is HUGE! It's definitely a unit study in itself, and since money isn't something our usual curriculum does much with, I feel like I can use these pages – and probably nothing else, seriously – and have money covered for them. This isn't 6 or 10 pages of stuff; it's the equivalent of purchasing a whole money workbook, and we can pick and choose which pages we do. Plus, since I have twins, I can print it out twice instead of just getting one page per student like a workbook.
My middle school students lack a good grammar and language arts program that they enjoy. One of the big hits with us is the NaNoWriMo curriculum on here! If you aren't familiar with NaNoWriMo, it's National Novel Writing Month, November of each year, where writers (of all ages) are encouraged to author an entire novel in 30 days. CHSH has three full editable PDFs (YAY for editable! My middle school kids wouldn't be enjoying it, otherwise.) one for each age division: elementary, middle school, and high school. These are awesome little step-by-step workbook curricula that take the student from admiring their favorite author and books, to letting that author be their "coach" to walk them through writing a novel of their own!
In the meantime, I'm utilizing that curriculum to point out grammar things. Another download is 95 grammar worksheets, so every time we hit something that is new or shaky, we just grab one of the worksheets from that set to help solidify that knowledge and move on. Beyond the grammar and language arts, I feel like CHSH really provides us with a great way, and great resources, to help move us towards the more delight-directed education I'm trying to create for my middle school students. The science and history resources are such a variety that I know that as we progress through the year, we'll love what's available in those categories as well.
My high school student actually used some of the math. He's preparing to take the SAT's but hasn't completed Algebra 2 yet, so we're working on getting some basic concepts down so that he can do his best and really "show up" at the test. There's a full Basic and Intermediate Algebra workbook on the site, and he basically has been going through the Table of Contents to find concepts he's not sure he knows. There are only a couple of pages of instruction with examples, and then lots of practice problems on a page or two of printables.
We've downloaded several of the literature studies for use later this year. They look great; some of them don't have answer keys, though, so I'll either need to read the book so I know if answers are correct or I'll just need to count on the cohesiveness of my students' answers and believe that they are right. I might need to let my high school student make the call on some of his siblings' work, if he's read the book and I haven't. To me, though, it'll be easy to use these as a jumping off place for narration discussion of the book as I've recently discovered that's an area we need to practice.
Besides all of these individual and specific resources created by the CHSH owner, she also has plenty of curriculum not written by her. There's grammar curriculum on there, some American History books, lots of the high school level stuff is resources of this nature, McGuffy, home economics books from generations past, and so much more. You can also upload your OWN resources to the site, so if you are one who likes to create printables I think this would be a great site to widen your exposure and possibly gain some followers of your own. I didn't look closely into how that process works yet, but I do plan to do so as I can see the networking possibilities there.
There's so much on the site, and I have all the grade/age levels, so it becomes difficult to explain how I love simply having this site available as a check-in resource for anything we might need! The annual subscription is definitely enough to get access to everything, but I am looking at getting the Lifetime membership once this expires, simply because I know she puts new things up regularly and as I have all the age groups including little ones I think this resource is one we'll want to keep an eye on! The annual sub is $25 and the Lifetime is $99.99 – so it only takes 4 years to be worth it. We'll need it longer than that!
You can connect with the Christian Homeschool Hub and with the creator, Lynda Ackert, all over the web! Facebook – FB Group – Twitter – Pinterest – Google+ – Google+ Group – LinkedIn – Tumblr And don't forget to check out the rest of the Crew reviews! I'm sure everyone used different resources from CHSH and still you won't see everything on the site reviewed. There's too much for us to have covered it all! Check it out and tell her I sent ya.