Have you ever wondered about the history of the Bible, about how it has retained its original form and its role in the Reformation era? I was privileged to receive for review a cool Christian documentary titled The Forbidden Book which tells these stories and more. New Liberty Videos, the producer of this Christian documentary, also produces several others. We'll be looking to obtain more of these!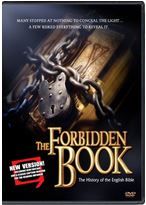 Christian Documentary
The video starts out by listing a wealth of facts about the Bible, which it then expands throughout the documentary. It's not a family movie by any means, a little dry, but it contains a wealth of interesting information and I enjoyed watching it! My 10 and 11 year old boys watched it with me, and while they said it was a little boring, they stayed and watched the whole movie and were able to tell me things they learned from it at the end. I think they found it more interesting than they want to admit!
The video is for a general audience of any age, and I don't think this particular video from New Liberty Videos even needs much of a disclaimer for parents to watch it first. There might be a scene or two where you'd like to have your kids turn their faces, but definitely nothing major. The exception might be if anyone is sensitive to drawings of people about to be burned at the stake; they aren't horrible, just people and sticks and sometimes flames, but no blood-n-guts. The video is only 58 minutes long.
Some of the most interesting parts of history for me were the tidbits about the Apocrypha. I hadn't realized that the Apocrypha had always been included until the late 1800s, and that even the early scholars who weren't sure if this portion was "inspired," did still think the books should be included for instruction and history. I find that intriguing, especially with the note that some of what is considered the Apocrypha were actually extra chapters in the book of Daniel. The book of Daniel is incredibly prophetic about the end times, and this piece of information alone has inspired me to go and read these books. If the scholars debate whether or not these books "should be" included, then I'm not sure it's up to me to make that decision, either. It's just something that really stood out to me in this Christian documentary.
The Reformation
Other parts that were especially interesting to me were the details surrounding the pre-Reformation church – including a list of dollar prices to pay for penance on specific sins – as well as the story of Tyndale and Luther and their parts in publishing Bibles in the peoples' own language, and how that started what we know as the Reformation. It's fascinating to me that the gospel was so drastic a difference to the church of that day. It makes me want to learn Greek and see if there's something we are still missing!
One major thing that stood out to me in this part, was that the first man who was burned at the stake for saying that the ordinary people should have a Bible in their own language – John Huss, a student of John Wyclif – uttered a prophecy from the stake itself as he burned. He declared that in 100 years a man would be raised up whose calls for reforms and changes could not be suppressed. That man was, of course, Martin Luther who nailed his 95 Thesis of Contention to the church wall. Amazing! God is good!
Studies that will likely come into our homeschool because of what I've seen and learned in this video include the possible study of Greek, and maybe even Hebrew. We will definitely be looking closer at the Reformation this week, and probably celebrate Reformation Day for the first time ever. We haven't celebrated halloween in several years, and I've known that Reformation Day was an option, but since we haven't studied that period of time in history yet I didn't really have any interest or starting place for our studies. This Christian documentary will definitely help us get started!
We will possibly also add studies of the Apocrypha to our Bible studies, though I will read through them first. Probably, we'll just talk about them and I'll keep my kids reading through from cover to cover of the Bibles we carry as we do already. I'll be interested in their opinions as to whether they think the Apocrypha should be included.
There is much information in The Forbidden Book which I did not know, or only knew pieces and parts. Having taught homeschool for 8 years, and intending to study history in chronological order, we have moved too slowly and haven't ever reached The Reformation. I'm antsy to get there, now! I know my high school student will feel the same when he gets up and watches this Christian documentary today. (He's a history and Bible buff, but was too tired to stay up with us last night.)
You can obtain this video and the others by New Liberty for just $19.95 if you purchase it alone. Do remember to check out the other Crew reviews, because everyone on this review received a different video!