Are you captivated by today's technology? Has Facebook taken you captive and caused you to believe the lie that you are being social, even though it's all surface and no real relationship? I received a Captivated DVD from Media Talk 101 through the Schoolhouse Review Crew for the purpose of review, and let me just say that if you've ever wondered if your family consumes too much media, that you need to see this movie!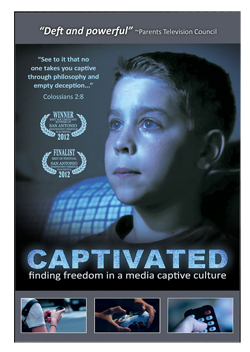 Captivated
Among the Christian circles, there exists a general consensus that the media of today's culture isn't pleasing to the Lord, for the most part, and also that we as a society take in too much of said disparate media. As Christian parents – as most of you reading this page are – you likely work to monitor your kids' television shows and amounts of consumption. Most of us, I hope, wouldn't allow murdering video games or death-and-sex-laden movies to pollute our family television screens.
But, are we as careful as we should be? And, what's more, are we aware of everything our children take in through these media, and that of the internet? Sites like Facebook offer a menagerie of opportunities for kids to engage with one another, and many teenagers these days especially seem to carry around their phones and devices as if they were an added appendage.
Is this okay? "What would Jesus do?" (Okay, might be showing my age with that one.)

Quantity and Quality
Media Talk 101 addresses not only the quality of content we allow into our homes, but also the quantity of our consumption. We are to guard our eyes and ears, but even too much of a good thing isn't good. As Christians, that's a principle we know well.
Doctors, psychologists, teen ministers, pastors, and more make up the team of experts we hear from on Captivated. Hear from experts such as Bob Waliszewski, Director of Focus on the Family's Plugged In department; KP Yohannan, Founder and President of Gospel for Asia; Maggie Jackson, Journalist and Author of "Distracted – The Erosion of Attention and the Coming Dark Age"; Dimitri Christakis, MD, MPH, Director of Center for Child Health, Behavior and Development, Seattle Children's Hospital Research Foundation; and so many more.
I really appreciated the stand these guys are taking on the consumption of media in today's society. As parents, we really do need to be careful – so much more careful than we, as a whole, are being – about what our kids see, how much our kids see, and even for ourselves. The song we sang as children about being careful "little eyes" is true even as adults; if they shouldn't see it, we shouldn't either. Sin is sin, folks, no matter your age! Challenge yourself to keep to the same standards of viewing and consumption as that which you advise and dictate to your children.

Media Fast?
In the movie, several of the testimonies come from people and families who determined to give up media for a set amount of time, and how freeing that was for them. The movie doesn't make an all-out call for a media fast, but I'll tell you that even my own children were convicted enough to suggest and agree to a pretty strict media fast. We will be fasting from "screen time" for 30 days, starting April 1.
And then we decided to go see a movie in the theater (which we hardly ever never do), so we delayed it a day.
Does that speak to anyone besides me? (Just saying.)
But please understand: the makers of this show are not anti-media. After all, they are getting their message out via DVD. Not only that, but they are choosing bloggers to get the word out about it. These guys are anything but anti-media, I think. In fact, when you watch the movie, please consider these suggestions.
Watch some of the special features first, mainly the word from the producer, Philip Telfer. Allow him to tell you about how this documentary came to be, who he talked to that persuaded him to pursue doing it, and why he's an expert in the field in the first place. Really. WATCH THIS FIRST!!!
Watch it as a family. There are some fantastic gold nuggets especially for Dad.
Think about society as a whole while you watch, and who in your life might can benefit from seeing this and realizing the intake their kids have access to, as well as being personally convicted.
Consider how much time you spend (and how much time your kids spend) with electronic, digital devices, not just television. One testimony speaks of how one girl made music her idol, her escape. It's not just tv, not just facebook, not even just texting that is being discussed here.
Don't think this movie is out to make you throw out all of your televisions and disconnect your internet. I don't think it is. It's just out to make you think twice about what and how much you are consuming. Would you do so with Jesus in the room? Is there a better way to spend your time?
It's About TIME
If you've been reading my blog this year, you know that my word for the year is "Time." This fits in perfectly, folks, because it's made me really take a hard look at – not just how do I spend my time – but how can I be spending my time. That's exactly how the kids not only got on board but became excited about going on a media fast; we went to discussing all the things they want to do but yet "don't have time". Do they really not have time?
Do I really not have time?
I must say that some of my favorite quotes come from Dr. David Murray, Professor of Old Testament and Practical Theology at Puritan Reformed Theological Seminary and Founder and Director of Head, Heart, Hand. Besides having a thick Scottish accent (aren't Scottish accents so much fun??!), Dr. Murray makes some great points, as do several others.
In my home, we have always consumed too much media. We just have. I know it, they know it, family knows it, and most of our friends know it. All these reasons, excuses, but it comes down to choices. It comes down to turning it off and doing something else. (It comes down to deciding and desiring to do something else, to motivate us to turn it off.) It comes down to engaging our brains instead of checking out, engaging our kids in relationship instead of filling the silence with meaningless noise, and choosing what is better over even what seems good.
We've done the weeding out of the trash. We've turned off satellite television. I monitor the kids' internet and social media usage quite closely. (But… mine? Hmmm… let's not go there just yet, mkay? Well, let me rephrase – it's nothing "bad" I'm doing online. But, too much? Quite probably. Almost surely. Okay fine. Yes. It's too much.)
Can you see the struggle here? Even in our home, even when we only listen to Christian music, only stream shows and movies within certain acceptable parameters, even though, even though, even though. It's still too much, and we are convicted.
Please forgive my recent absence from my blog. It's not all been due to this movie, but in the last few weeks, a large part of it has been. It will continue for a while, though I will fulfill my obligations as far as Crew reviews – and the required amounts of non-review items that we are expected to maintain. I plan to still work on getting up my two weekly linkups, though I'll admit I haven't been very good about it. I'm having too much fun, doing too many things, and making plans to do more! And writing is on the list.
This year is about TIME. Once again, the Lord has brought it to mind and heart and conviction for me especially, and also to my family. It's a season of change.
Connect with Media Talk 101 on Facebook and on Twitter @CaptivatedMovie – and don't forget to get one yourself. They are only $16.95 on the website, with free shipping, and right now you can get a second copy for only $5. (The more you buy, the cheaper they are, too.) Watch it at least three times; one with the family, one by yourself and/or with your spouse, and then watch it again with the whole family. Watch it, discuss it, make a new plan with direction from the Lord and your own convictions through the Holy Spirit, and then pass it on to someone else. We all need it. Kingdom, come!