It wasn't that long ago that we discovered some learning differences in our home, and I've been trying to include more audio products because of that. Heirloom Audio Productions  has a selection of engaging and high-interest audio productions, so I was interested in trying out Beric The Briton as a review with my boys. For us, it really does have to be of very high interest level to get my middle schoolers involved, let alone excited about it, and I've honestlyhad a hard time getting them to listen to audio products in the past. Not so with Beric The Briton!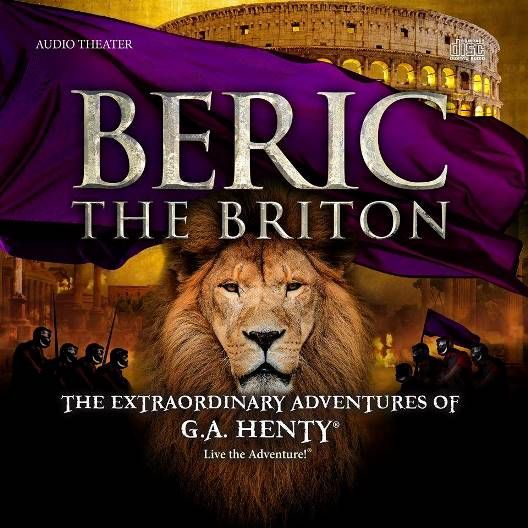 Christian Audio Drama
My boys aren't easy to pin down for an audio product. My 6th grader is dyslexic, so finding good literature for him is difficult because he can comprehend at a much higher level than he can easily read on his own, and my 8th grader is just very… thirteen (ahem). Enter Heirloom Audio Productions! These Christian audio drama productions are very engaging; my 6th grader has been asking if there was a movie like this, but really this is almost like a movie without the visual component.
Based on the G.A. Henty novel, Beric The Briton isn't just a reading of the book or a boring multi-line redo read on cassette tape. This is a full-fledged dramatic production with voice actors, full musical score background, great auditory embellishments (what do you call "graphics" when there's no visual component?), and amazing intrigue. When both of these two particular boys rave about how fun it was to listen, I personally know we've found a hit! I let my boys listen to this as, or instead of, their usual reading time for literature. I generally require a novel from them, sometimes including study with it, at least narration from them, as part of their language arts. This took that place in our curriculum recently, and here's what they have to say about the story itself.
Beric the Briton takes place in Rome. Beric was the Sarcy Tribe leader, which he inherited when he came of age. During his leadership, a war broke out between the Romans and the British. Beric was from Briton but had been in Roman captivity for several years. He'd been studying Roman history and culture. The story starts with Beric telling his brother about his time in Rome. The war was about setting Britain free from the Roman Empire, during the time of Nero the Emperor. Beric fights on the side of the British, against the Romans.

The Romans had a formation to their battle, but the British lacked consolidation, so even though the British outnumbered the Romans 20 to 1, their barbaric tactics worked against them. Beric, because of his time in Rome, was able to put a small group of people into a formation; they had a longer front line, and longer spears. Because of this, they won a specific battle and they took a city from an evil queen and captured a token. This increased the confidence of the people and they wanted to take over some of the major cities, but Beric knew it was a trap. He wanted to go to a different place, but the people won out. The Roman soldiers had been pulled out and Beric didn't want to fight defenseless people.

The boys didn't even think about this being educational; they both just thought of the whole thing as being entertainment, and even now don't even really realize that they've learned some important facts about world history. They do mention Jesus and Paul, but they are using Roman names; the boys recognized those as well as the connections to Julius Caesar (who isn't a character, but it's hinted at towards the end of the story). My boys don't really recognize the story as being told from a specifically Christian worldview, but if you're familiar at all with G.A. Henty then you know that this is woven throughout his stories in a very subtle manner, and specifically there are no violent instances that you might expect in a drama from this time period.

The study guide, on the other hand, IS very specifically Christian based. It gives the time stamps for your listening session and then asks questions based on that specific listening. The questions are in three parts; first general comprehension questions, and then thought provoking questions to get the students to think about worldview and comparison to our faith, and a section for vocabulary. There are informational pages on some of the historical characters and places, times, etc, and a few projects included. The thought questions often include a project idea or two as well.
Towards the end, there are even some Bible Study guides that can be used, especially at the middle and high school levels. I think that if using this guide and including the Bible study, you'd have a good start on a high school credit; personally, I'd just note how much time the whole thing took and award based on that, and call it a literature unit. It's pretty meaty!
Besides the study guide, when you purchase the premium option, there are quite a few bonuses available, including a 30 minute video documentary about the actors and making of the drama (my kids are docu-drama nerds), as well as some fun posters and even the Henty novel itself! For my music nerd, there's even the musical soundtrack. (He'll be thrilled! He's my high schooler and didn't listen in this round, but he will… because he's a literature and music nerd.) So much available to make this interesting and to keep their interest for several weeks. My kids have loved it!
You can connect with Heirloom on Facebook, Twitter, Google, and Instagram. Don't forget to check out the other Crew reviews! This is the latest release from Heirloom, and the Crew has reviewed other titles in the past, so if you're interested in those please browse the Crew blog to find those reviews as well. I know we'll be on the hunt for a few more of these ourselves!
Save


Save