I love art! I'm just not very good about incorporating it into our school day, so I was pleased to be able to review an online program I'd not heard of before! ArtAchieve is an online homeschool art curriculum program using either videos or PowerPoint slides to teach art to my kids! With the Entire Level I lessons that we received, for each lesson my kids can view whichever type of presentation they prefer (both are available for most lessons). I like not having to make up lesson plans myself!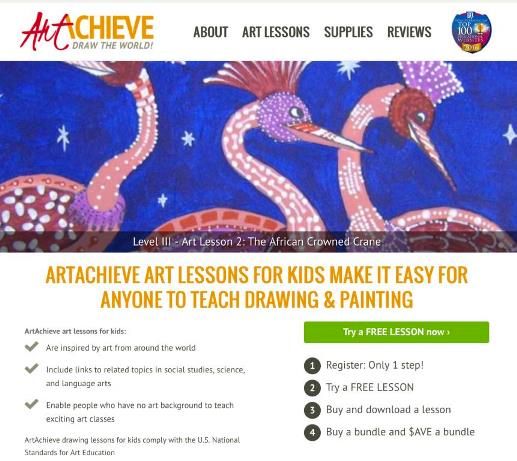 Online Homeschool Art Curriculum
With previous homeschool art curricula we've tried, there pretty much has been a book and pictures of examples to help us understand the concepts being presented. It's a relief to me personally to be able to see the techniques and products in use; I guess that goes with being a visual learner. I also enjoyed not having to sit and read anything to the kids, or require them to read anything.
As you might have guessed, my family mostly has preferred to watch the online videos to do our lessons. I do also like to look at the slide presentation. I feel like he is able to convey more creative options in the slides, and I like being able to skip more of the front matter easier that way. Each video begins with the "rules of drawing" John Hofland, the artist and instructor, has given the students. They are great rules, and very much along the "no rules" line of thinking for art.
Whew! There's so much I want to say – I need to slow myself down a little!
How To Begin
On the ArtAchieve website itself, you'll find several free lessons. You can do the entire lesson from these freebies, and I really appreciate any curriculum provider that offers this much for free. You can really tell what you're getting when you look through everything available, but let me tell you about our experience with it.
Every lesson has a warm-up. We've really enjoyed these, even (and maybe especially) my youngest students (twin kindergartners). These are the old activities you might remember or continue to see in kid workbooks, where the student copies exactly from the box above into the box below. I see these often as mirror exercises, or complete the pattern exercises, but we like this where it's just intended to give you a model to copy exactly what is above. I am extremely thankful that each and every lesson includes these warm-ups, because one thing we've managed to do better because of ArtAchieve is to take our time and slow down our art time.
Mr. Hofland has the students do a relaxing exercise at the beginning, and suggests relaxing music in the background as you work. I do completely agree with the ideas of calming yourself and being in a relaxed (not anxious) mindset as you begin working on any art project. It's supposed to be FUN! Here, we choose worship music for our background, which sets my own mind at ease.
The beginning of each lesson does delve some – or at least brings up the questions for you, to delve into on your own – into some core academic subjects. We have looked at the anatomy of insects, the different climates around the world and the animals that live in them, geography and different cultures and religions of the world, and so much  more! This is part of why I personally like the slide presentations; I feel like those give us the opportunity to dig into those subjects a little easier – either before, or after our art lesson time.
In the interest of slowing down, and with the addition of all the core curriculum components in these lessons, you could easily take a full day each week – or even just a half a day – and make it all about the art unit. As we move forward, this is how we'll intend to keep making art a regular part of our school week. I love not feeling like my kids are missing something "crucial" because we're taking the time to do art instead. Rather than making art a separate subject, ArtAchieve makes it easy to incorporate learning and use the art to supplement that.
Learning to Draw
I've always been a very simple drawer. I didn't really start drawing until I had kids, and my drawings were simple. To be honest, I learned most of my drawing from the kids television show with the small, blue puppy and the man in the green shirt. But this is almost that simple… except, not. In the video lessons, Mr. Hofland explains step by step how to draw what you're seeing. You are given a model to draw from, and he breaks it down not only into elements, but down even further into strokes. He has you draw dots before lines so that you know where you're going and how big it's going to be. He points out that this curve curves down and then back up before coming around to make the tail – details like that, which make his instruction a step beyond the little yellow notebook with the chair on the front.
But the art instruction goes much deeper than that. Lessons progress, though I firmly believe that you could skip around within at least the Entire Level I lessons in our experience, and some lessons will instruct students on things like using oil pastels, warm and cool colors, shades and hues, and many more terms. The "content standards" for meeting any requirements are firmly stated at the beginning of each lesson, and leave no doubt that this is a full art curriculum, a full learning experience, and we have gotten more out of this program in the few weeks we've had it than any other program we've used this far.
You can connect with ArtAchieve on Facebook, Twitter, Pinterest, Google, and Instagram. Be sure and read the other Crew reviews – ArtAchieve has 3 full levels of lessons and not everyone reviewed the same level. They suggest starting at Level 1 no matter your experience, and I'm glad that's what we did!


Save
Save
Save