We are a family that concentrates on grammar and spelling in younger grades and then starts introducing writing in middle school. Each of my three kids has a different learning style and strength, so I was thrilled to have the chance to review the new writing program from Apologia Educational Ministries! It's called Writers in Residence and is providing a gentle approach to writing for my resistant middle school kiddo.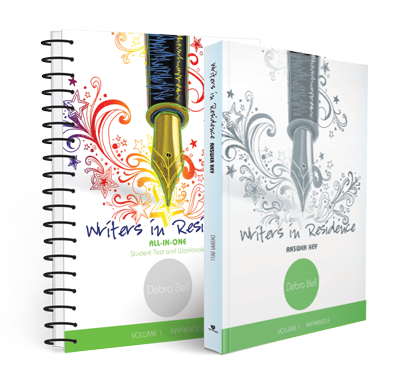 One of the most important things to me in finding a writing curriculum for this particular kiddo is that it be gentle. My middle school child is resistant to most things schoolish, and especially those in the language arts category. I wasn't sure that he'd co-operate for this review – and to be quite honest, his cooperation was limited. One thing that's fantastic about Writers in Residence is that I can present each module individually. My student can do one module, then set it aside for a while to do something else. That's crucial in our homeschool!
We found our easy introduction! The first few pages are for the teacher, but one of the first things in the book is the page about all the writers that the student will "meet" and whose styles they will learn to imitate throughout the course. My son was thrilled to find several names he already recognized!

With the easy-to-follow steps, individual work pages for each step, familiar authors, and especially the method to use the child's own life references, this has been a usable resource for us! Now, my resistant kiddo really did need me to help jog his memory and think about things for the work modules. But I'd not have expected differently from a kid who has never before had to do any writing. I really enjoyed the ability for my kid to use the model of a well-known author and use his own ideas and information to create a written work. That's the trademark of Writers in Residence and what makes it different from other curricula we've used.
My son liked that he could work the pages in the workbook itself. It's a very thick book, with all of the instruction and all  of the student work pages in one large volume. Honestly, I think it would be easier to handle if the instruction was in one volume and the student pages came in an entirely separate workbook. That would also make it easier for me to use this with more than one student, or with a subsequent student in coming years, instead of having to purchase the entire program again. But that's really my only complaint about this program because it was so much fun and easy to use!

One of the best features about this book, I think, is the schedule in the front! I was THRILLED to see a schedule for a writing curriculum, because you seldom see them. Most just expect you'll just do the next thing, but I really like (especially with this kid) that there's an expected timeline for the due dates of assignments. I also really like that it's color-coded by modules. It allowed us to have my kiddo go through and do the assignments independently and mark them off right in the book. Then at the end of the day, or a couple days, or… whatever (haha) I can go through and check his work.
It's only scheduled 4 days per week, but we generally were dividing up the work for that last day and sticking it on the 5th day. It's recommended to use it "at least" 3 days per week, but with this schedule guideline you can easily keep up with where you are no matter how often you decide to open up the book. Apologia Educational Ministries is a well known and loved publisher, and Debra Bell has hit it out of the park with this one!
 If you still have any doubts whatsoever, do check out the website. The 100 page sample of Writers in Residence will leave no doubt! Don't forget to check out the other Crew reviews by clicking the banner below. You can connect with Apologia on Facebook, Twitter, Pinterest, and Instagram.