I have middle schoolers who struggle in the language arts department, including one with dyslexia. I'm thrilled to bring you this review of Apologia Educational Ministries  newest program Readers in Residence Volume 1 (Sleuth) designed for 4th through 6th graders. My dyslexic son is a 6th grader and is working at least a semester behind and possibly as much as 2 years behind, so I really wanted to try this program with him and have not been disappointed!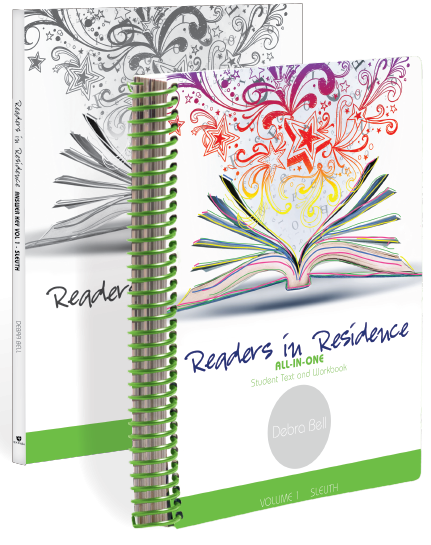 Homeschool Reading Curriculum
Readers in Residence is a literature curriculum. Designed to be used alongside their Writers in Residence course – which I reviewed last year with a different student – the two programs together make up a full year of language arts. It uses good literature – combined with literature of the student's choice – to teach the mechanics of reading. Throughout the course, the child is encouraged to become an "expert reader" and trained as to understand what that means and what others who are "expert readers" do and think when they read a book.
This is way more than just comprehension questions. In fact, the students don't even start reading the first book until several days into using the program. First, they are taught to observe the cover and to understand why authors write books. They learn about fiction vs non-fiction and about the different genres, even exploring their own home library to see if they can find one book in each category. And then they begin reading, and guided through understanding not only the story but also to make inferences based on their previous knowledge.
Readers in Residence is a visual language arts program if I've ever seen one. There are charts to fill out, book excerpts are highlighted, vocabulary and important themes are placed in the margins for study, and so much more. It's a really delightful and beautiful book! The student book is over two inches thick. This is, actually, my only complaint. I do wish the student text was in one place and the worksheets in another as that would make it SO much easier to maneuver about our homeschooling setup.
The teacher book is thinner, about an inch. It doesn't include the entire student text, but does include suggested answers for all of the questions in the student book. I do think it's a needed component, especially for the mom who isn't an "expert reader" necessarily herself – but, even for those of us who are. I've found it useful already a few times simply because I'm not reading the book along with my son and sometimes simply don't know the answers to the questions.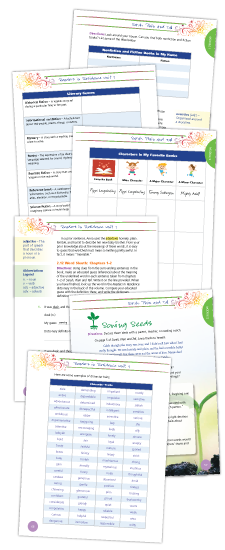 We are really enjoying the program. Since my son is dyslexic, I usually will sit and read the module information to him. Many times, I'll let him answer the questions out loud, but I've had him fill them in himself a few times as well. I do make him fill in all the charts, and I'm thankful that for teh larger charts it's not expected to finish them in one sitting.
Actually, I almost forgot to mention my favorite part! My favorite part is most definitely the schedule at the beginning of the book. You can see the schedule if you download the sample from the website. It's designed to be used only 4 days per week, which is perfect for us since we have Mondays full of co-op style activities. This has really helped us to know what is a reasonable lesson and a good pace for the course. If you tried to do one module per day, you'd take a very long time through the book and some days would be only 5 minutes while some would be a half hour! Not so if you use the schedule. We are usually done in about 20 minutes.
The program is really helping my son to think about what he reads. The program is all about teaching kids to use reading to learn, and that is a main goal that we have in our homeschool. I want my kids to be able to go find out information for anything they need to learn in their whole lives, and reading comprehension is so crucial in order to do that. We are thankful to have a great homeschool reading curriculum to help us reach our goals!
You can connect with Apologia on Facebook, Twitter, Instagram, and Pinterest. Don't forget to click the banner and visit the Crew blog so you can read the other reviews!