It's amazing how often I say that if you read this blog, you already know that science just isn't my thing. So when a review came available for the number one recommended elementary homeschool science resource, I really was stoked to bring you my own experience and opinion of the renowned Apologia Educational Ministries by using their Exploring Creation with Astronomy, 2nd Edition. We were blessed to receive the Student Text, the Notebooking Journal, the Junior Notebooking Journal, and the Audio CD.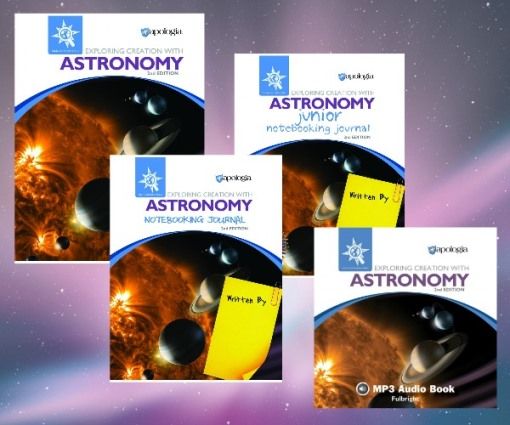 Elementary Homeschool Science
I've tried many things for science – really, I have – but until now I'd never had the opportunity to use the number one recommended elementary homeschool science curriculum. I'd heard great things about it but could never personally recommend it, because although I'd seen a book here and there at fairs I hadn't ever used it with my kids in any setting.
The Astronomy set is geared towards grades K-6 according to Apologia, but I think I'd definitely increase that age range. I might not start this with any less than a very advanced first grader or at least second semester first grader, and it might be more accurate to just say second grade. I also think that with the right resources and depending on your students, you can probably use this as a spine for a student up through 8th grade. It wouldn't be enough on its own at that level, but it definitely gives you a great starting point, a light science year, or for sure use it as a semester's worth of curriculum.
My twins have just finished kindergarten and are turning 6 this week, which is when we are saying that they have moved up to the first grade. They are definitely a YOUNG first grade; the Texas public school system would have them starting kindergarten this year because their birthday falls after the first of September, but they have learned their alphabet and are beginning to read. Caleb is actually further along and is doing pretty good with reading and spelling; he's absolutely a beginning first grader or a little beyond.
That said, this was just too much for them. The pictures are great and they will sit with me and mostly listen, but in asking them questions about the material, it's just beyond them still for now. The Junior Notebooking Journal is supposed to be right up their alley, but the writing (notebooking style, some copywork), spelling (think word finds and crossword puzzles, even with a word box), and other activities are just beyond them. Some of the cut and paste pages and the coloring books are right on par, but I'd like to see a stand-alone coloring book with this like there are with the apologetics courses. I think they'd be a better use of our time because they could color while they listened and not need to do the rest of the activities. It's a little much to think about buying the whole Jr. Notebook for just the coloring pages.

My middle school kids, on the other hand, have really enjoyed this book! Even though this curriculum is supposed to be for elementary homeschool science, I really think it's better for upper elementary and middle school.
I think the Audio CD is my favorite part of the whole package; my 6th grader is 12 years old and dyslexic. The CD allows him to go off into a different room and play the audio while he follows along in the book. (As a side note – the audio CD is an mp3 format, so it doesn't play on a regular cd player. You'll need one that will play mp3 files.)
My other favorite feature is the Daily Schedule. Both the Jr. Notebooking Journal and the regular Notebooking Journal contain a daily schedule suggestion, basically a lesson plan, so he can follow that on his own and not have to worry too much about decoding to understand. The regular Notebooking Journal is right on par for him, and I'm so thankful that he can use this program this way!


My 8th grader has been using it a little differently. He doesn't struggle with reading at all, and he generally sits down and reads the entire lesson (or a half lesson if it's super long, generally regulated by time) in a day. Then for the rest of the week, he might do some from the Notebooking Journal but he's been using some outside notebooking pages, outside experiments, and outside library resources to basically turn this entire curriculum into a unit-study approach. I've been impressed with how well he's worked, and he is the main reason that I'm really considering purchasing the new kit!
While we didn't get a chance to use the kit so I can't give an opinion on it, the kit for the Astronomy curriculum was just released since we started using it. It contains all of the experiments in the text, plus some that are scheduled in on the suggested lesson plan in the notebooks. Those extra experiments are in the schedule by title, but the instructions aren't included anywhere but in the kit. We've been super intrigued by some of the titles and have tried to find some substitute ideas online, but I'm angling to figure out if we can afford the kit to finish out using this for the semester.
My 8th grader will probably only use this for a semester. My 6th grader may end up using it for a full year, almost exactly as written, utilizing the Audio CD. My twins… well, I think it'll just go on the shelf for them for when they are ready for it in another couple of years. I'm thankful to have this on the shelf as a resource and to be more familiar with what I know is a highly recommended program. It's definitely advanced, and there's a lot of writing, but if your kids are of the notebooking persuasion then do know that this is set up very well with short sessions and cute activities that really solidify the understanding for a kiddo at the right level.
I now feel like I can honestly recommend Apologia for elementary homeschool science, and have been excited to see all of the extras that are offered through the company. They are creation-minded, Christ-focused, and more thorough in scientific thought than I ever remember having been personally educated. Love it.
You can connect with Apologia on Facebook, Twitter, Pinterest, and Instagram. Don't forget to check out the other Crew reviews!


Save
Save